Markus Geisen | Ridge Runner
We were quite excited to talk to Markus, this year's winner of the WeGlide sprint competition.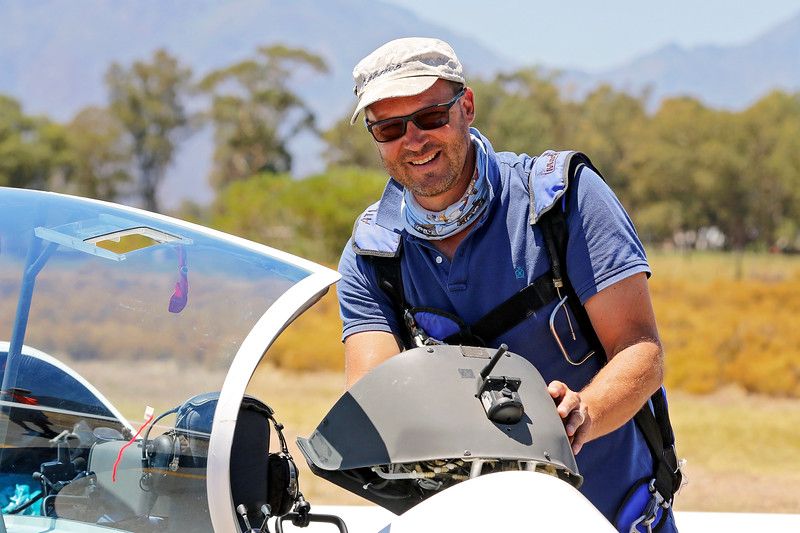 ⏳ Flight hours: In excess of 5000
✈️ Current glider: Arcus M & Ventus 3M
😌 Glider of your dreams: We already own it!
🌎 Where you want to go gliding someday: Argentina, New Zealand, but also Namibia one day.
Hey Markus, you told us you are quite busy at the moment. What are you up to?
Well currently I am busy here at MD Flugzeugbau preparing our glider and stowing everything in the container for the season in South Africa. The two gliders which will be use for the WeCoach winners are already in, still missing is our glider which MD has just repainted to perfection. This is all a tight operation as the container is going to be picked up on the 29th of September.
You have won the WeGlide Sprint competition this year, congratulations! Was there anything special about this gliding season to you?
We had a nice season in South Africa and a moderate season in Germany. We hit it off good with my friends Frerk Frommholz and Tobias Welsch in Spain. Arrived in time for the really good weather!
You did your two fastest sprint flights in Worcester, South Africa. What makes this place interesting to you?
Worcester is a fantastic site for a lot of reasons. Unlike with many sites on the Southern Hemisphere this is a club operation - I am a member of the club and also a flight instructor there - and not just a camp. In Worcester you can fly the whole year round. In winter wave flights in the westerly air currents dominate, in the austral summer we fly the N-S and E-W ridges in what we call thermally induced ridge lift and see breeze systems.
Overall I have never been to a place where you can get more flying out of your stay. The people in the club are friendly chaps and if the weather does not turn out to allow for flying - you are in the middle of the Winelands, only an hour from Cape Town.
For us, many flights in Worcester look quite similar. Are there different ways in which people fly the ridges?
Nothing you can do about this - if you ridge fly you need to follow the ridges! Although it does not look like it on the flight paths - the key to success here is also getting your tactical decisions right. It makes a hell of a difference to get your starting point right and also to choose the right ridge line according to the forecast for the day.
We were told you have a small cabin next to the airfield, where you sometimes stay for month?
Actually the cabin is owned by my South African friend Nico LeRoux who allows us to use it for our stay there.
Your third sprint flight was from Spain, flying to Portugal. 179 km/h over two hours is remarkable, especially in Europe. Tell us something about that day.
To be honest - you need to ask Tobias Welsch. We did the tactical decisions together and as you know Tobias is driving gliders fast! I probably know the region better but Tobias knows how to use energy lines better than most other glider pilots. The day was unusual in so far as normally the weather gets slower the more you move into Portugal.
We hardly see you flying any other aircraft than your Arcus M. Is this the perfect glider for your flying adventures?
Yes it is - it is a self launching glider with ample power for take off even at maximum take off weight at high temperatures at high altitude. I feel safe in this glider with it exceptional maneuverability and performance. Also my "place of work" is comfortable for long hours of operations. But I sometimes would  like the maneuver speed to be higher for ridge operation in turbulent, gusty conditions.
Flying in all these exciting locations, what makes gliding in Germany still interesting to you?
I am a member and the Chief Flying Instructor off our club here in Germany. As a Geologist I love seeing the structure of the  landscape which is totally different from the South African landscape, but I must admit that when I'm in Germany my focus is not entirely on gliding.
You seem to have a lot of time and a nice glider. Is there any new place you dream of going to?
I love exploring new things - the one thing that would really interest me is New Zealand!
You get to fly with a lot of interesting copilots. Do you always agree about tactical decisions?
The reason to fly a double seater in my mind is to not only share knowledge but also to learn from other people. In competitions I have greatly benefited from the competition experience of my cousins Michael Pfennig. In long distance flights I am most comfortable with my partner Karin Wiesenthal.
Much younger pilots I fly with  like Philip Goralski and Tom Wetzel, they have inspired my greatly. This generation of pilots has learned to drive gliders fast much quicker than my generation could. And that is in part due to the availability of data from flights that was not available when I started out. Scoring and analysis systems especially like WeGlide make this possible. Thank you guys!
Another "Energy line hunter" I particularly enjoy flying with is Frerk Frommholz. We share the same style of flying and the same philosophy about gliding. My following comments below about double seater flying are inspired by discussions with Frerk:
In my view the key to operate a double seater is to make use of the two brains on board - this requires some background about how teams work and how peoples minds work. And not all humans react the same - so it requires you to acquaint yourself with the person you are flying with. You need to know their comfort zones and the environment in which they can perform best. If you are not willing to invest in this there will always be a strong hierarchy in the cockpit which will inhibit the overall  performance. And sure we do discuss options and decisions in flight - and we agree on a way ahead together. But gliding is much better described like a game - sometime you take chances and you win. Sometimes you do not. But you never have the chance to prove if the alternative choice would have resulted in a better outcome!
Do you see room for improvement for you to become even faster?
I guess there might be some leeway for improvement. None of the flights in the ranking was "designed" for the speed ranking but hey turned out to be a byproduct of a long distance flight. I guess if we had optimized the flights for the speed ranking only we could have run a bit faster.
After talking about your flights, what was the most impressive flight by others that you spotted on WeGlide this season?
Baptiste Innocent running this incredible flight to Corsica and back across Italy to Fayence. Chapeau! A lot of planning must have gone into this flight and possibly a lot of communication with Klaus Ohlmann. To both of them: You guys got guts!
Thank you for the interview Markus! Is there anything else you want to mention?
Thank you for the interview!