Gliding at Night | The Comeback After Over Half a Century
Let's recap Gordon Boettger's awesome journey to break the 3000km mark in gliding. What an achievement!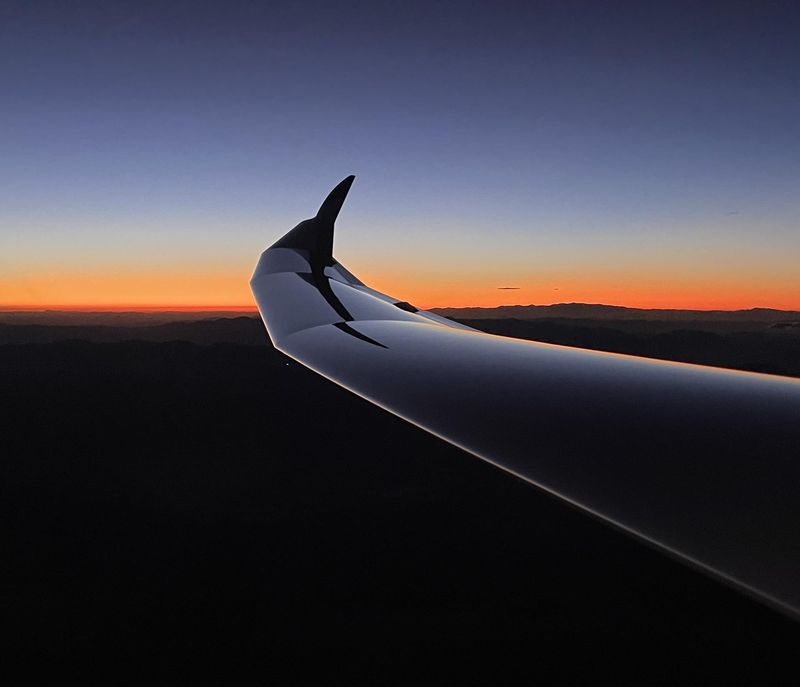 Looking back into the past, there was a time when daring pilots set records in endurance gliding. They would soar for long hours along the coastal dunes. However, accidents occurred, and pilots would fall asleep during the flight. It was simply too dangerous, and this type of gliding was soon discontinued.
The records in endurance gliding are now over half a century old, and technology has advanced significantly. In some countries, gliding during night is legal. The question naturally arises: Who will dare to follow in the footsteps of those record hunters?
First and foremost, it's important to note that records will not be attempted here. The FAI (Fédération Aéronautique Internationale) does not recognize flights that begin before dawn or end after dusk. However, that doesn't discourage from pushing boundaries and setting new standards in the unofficial rankings.
On the way to 3000km
In April of this year, we were surprised for the first time by a special event originating from Minden, Nevada in the United States. Gordon Boettger conducted a test flight at night with his Arcus J, a self-launching two-seater glider equipped with a jet engine.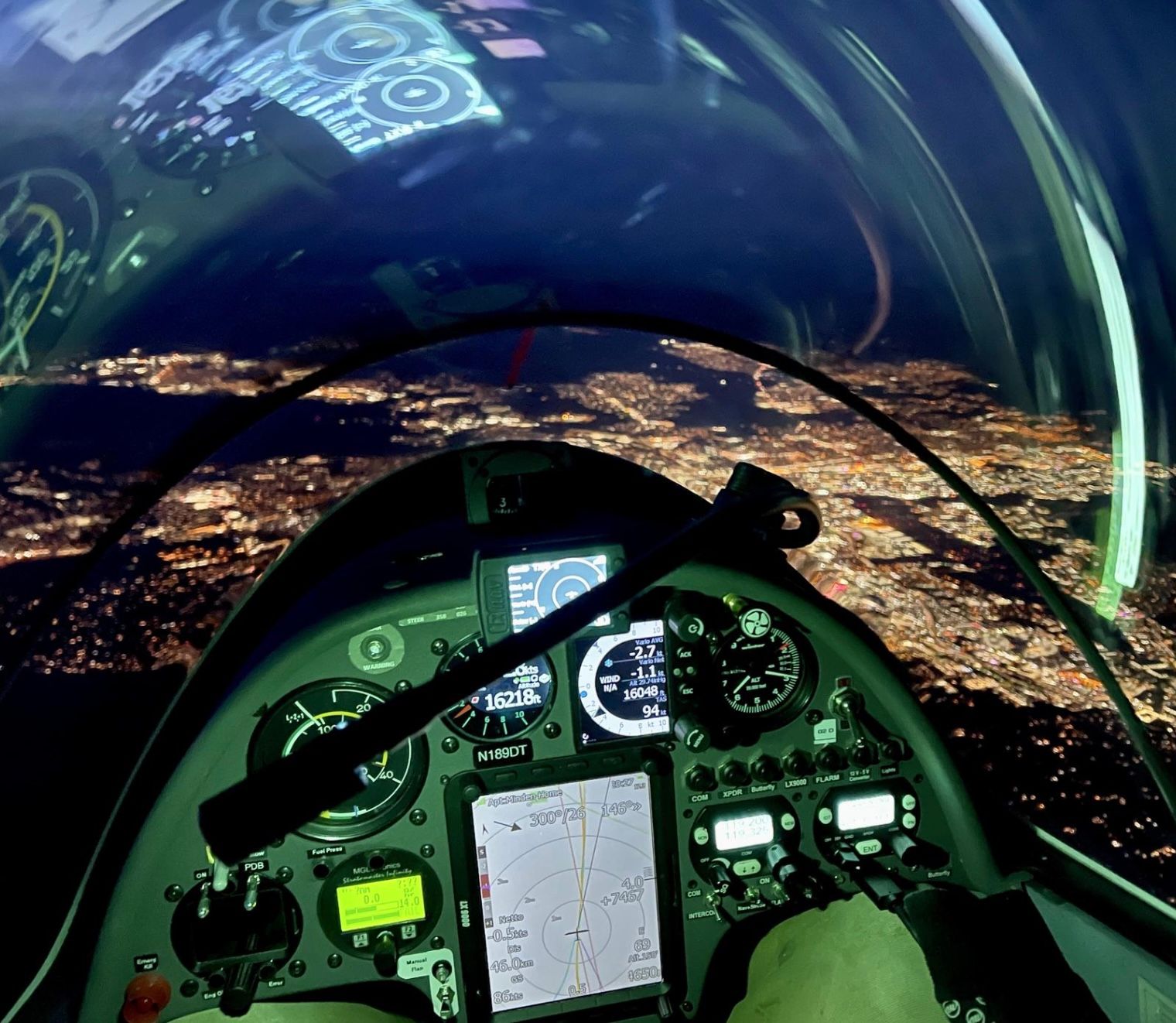 Gordon flew with night vision goggles and instrumentation specifically designed for flying with night vision devices. Even though it was essentially a local flight within the constant gliding range of Minden, he covered several kilometers. The attention and commentary surrounding the flight were significant. We wholeheartedly agree with Thomas Wolf's perspective:
"This is really "next level"!"
Gordon was also euphoric after the flight, and we could already sense that this was just the beginning of an exciting journey.
"Thanks for the great comments.  I'm hoping this will lead to some really fun flights that I can share.  Sorry about the dark pictures 😂 and lack of scenery on this flight."
Of course, the first questions also arose, as raised by Michael Sohn:
"What is about position lights ? How did you manage it ?"
Gordon promptly provided information on these matters as well. The Arcus is equipped with position lights, and the canopy is fitted with an additional layer of Plexiglas to prevent icing inside the cockpit. We are delighted to see how effectively the comment section is now being used, fostering greater transparency in gliding!
Just over two weeks later, another sensation occurred. Gordon Boettger flew together with Brad Jackson. The wave conditions that day were not ideal, but they extended the flight into the night and managed to surpass the 2000-kilometer mark in the end.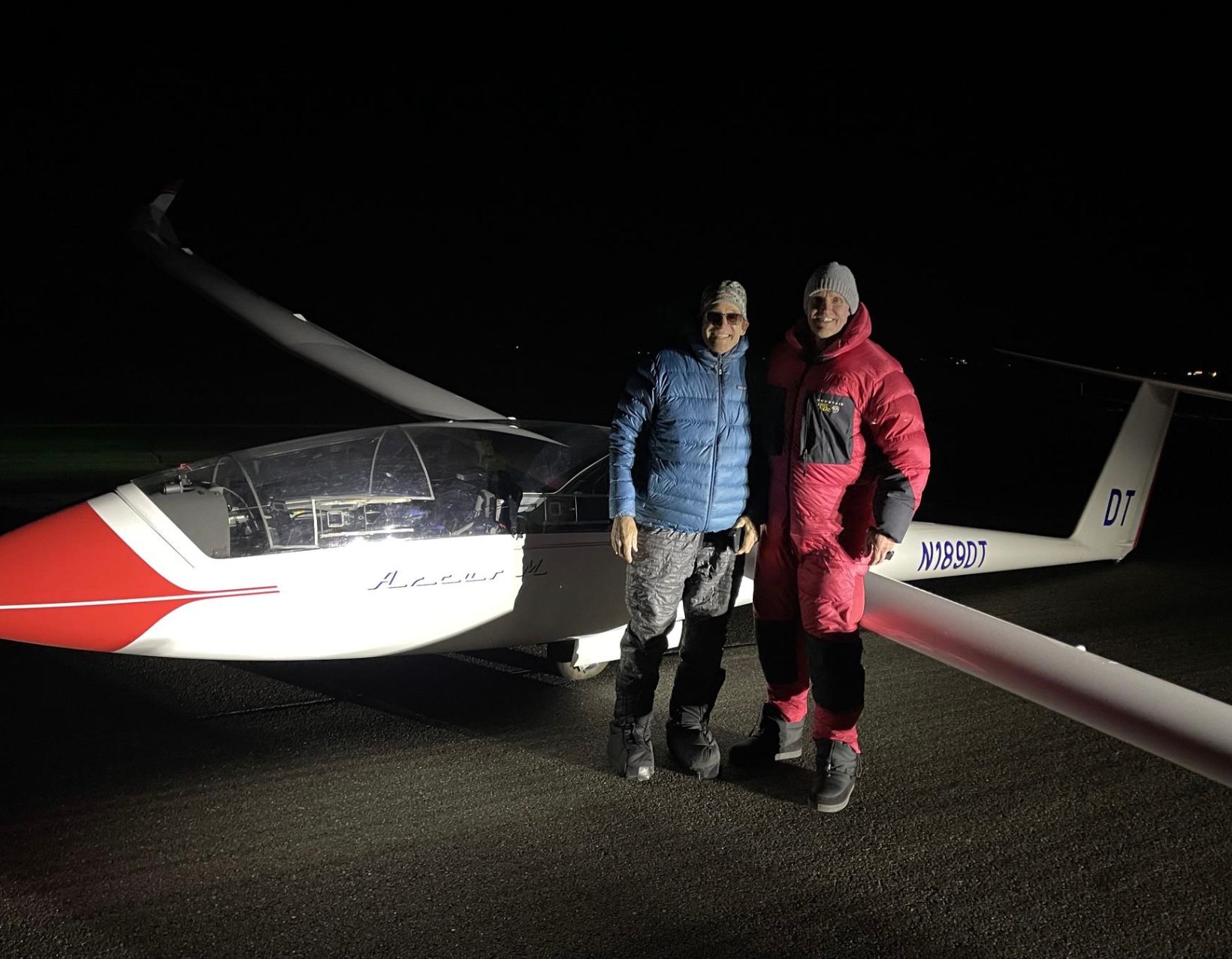 Our team member, Simon van den Eijkel, got it right:
"I calculated that a 3000 is possible in that area. Question is, when will it happen?"
Setting new boundaries - A historic day in gliding
On June 19, 2023, we received a message from Gordon:
"I'm going to launch at midnight tonight and plan for a 2500 km plus flight. NVG time baby!"
It was already clear to us then that today could be the day when the greatest-ever kilometer distance would be surpassed by a glider. This time, the strategy was different. In contrast to the previous flight, this one started at night to make perfect use of the wave window. Gordon flew with Bruce Campbell on this day, and after 17.5 hours, they touched the ground again after covering 3058 kilometers - a historic day in gliding!

Following the flight, there was initially a moment of confusion when it was discovered that the flight hadn't been uploaded. Were there issues with the logger? However, after a brief discussion, relief followed. It turned out that Gordon and Bruce had completed their flight not in Minden but further north in Cedarville to safely reach the 3000-kilometer mark. Unfortunately, the internet connection in Cedarville was simply too poor to upload the flight.
Fortunately, after a good rest, Gordon kindly provided a detailed commentary. First and foremost, achieving the 3000 kilometers was anything but easy, and the last few hours required a tremendous amount of concentration to reach that magical number. It was an incredible feat after already more than 15 hours of flying. So sit back, and get ready to experience it up close and personal.
"The plan was to takeoff sometime after midnight and make a cross country through most of the night and practice with the NVG's and see how cold it would be at high altitude at night. The forecast was for good wave throughout the night and getting very weak by 1400L back in the Minden area.  My expectations were low.  I asked my copilot if he was interested in joining me. Takeoff was at 0230L in windy conditions on a very dark night with night vision goggles (NVG's).  I had a normal climb in "blue" wave and got my IFR clearance and went south using the night vision goggles.  It was absolutely magical and I felt like I was in an IMAX movie as we watched the Milky Way and shooting stars continuously through the NVG's. UNFORGETTABLE!  Skysight showed good wave in the Owens Valley to the south. The difficulty with the wave in our area is that normally the energy runs out to the south near Inyokern along the southern end of the Sierra and to the north near Susanville there is too much moisture and the wave weakens. In Argentina it is possible to fly much further to the south and north than along the Sierra. When arriving in the Joshua military airspace I was told to descend below FL180 before entering the airspace because the Joshua controllers did not open the airspace until 0500L. That was a surprise. When they arrived at 0500L I was able to get my clearance in the military airspace and climb into the flight levels. The wave was blue the entire day with the exception of the Owens Valley which had a lenticular and a few small rotor clouds. The first turn was made near Inyokern in the south when the wave got very weak. The second leg was not a problem as the sun came up and the NVG's came off. I made my second turn point NW of Reno when the wave became very weak. I wanted to fly further to the north near Susanville but there was too much cloud cover and there was no visible sign of wave. I turned south again and remained on my IFR clearance. ATC was SUPERB and a great help. The workload is extremely high at times coordinating with ATC. The 3rd leg to the south was not a problem. I realized during these legs that the wave was not too strong and that I had flown most flights in much stronger conditions. I made my 3rd turn point again near Inyokern. Another run now to the north with not much difficulty. At this point we started calculating what was possible. 2500km seemed like a guarantee and then the discussion of 3000km came up."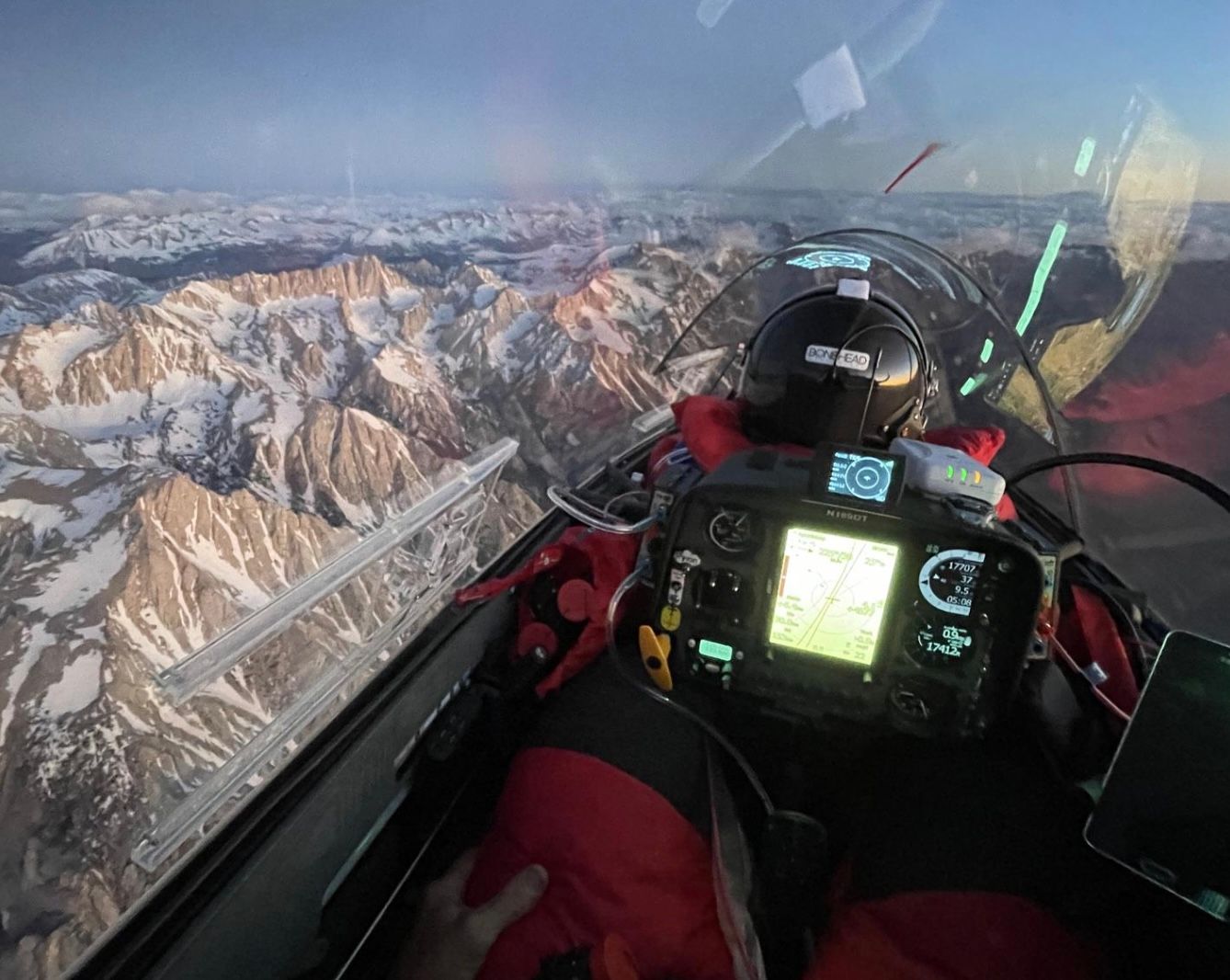 "We both realized that my final leg to the north would have to go way beyond Susanville. The difference between 2500 and 3000km is big and much more difficult. In my mind I thought it would not be possible since there was no wave forecast and far too much moisture north of Susanville for the last few hundred kilometers. The fourth turn was once again made in the Reno area. On my last leg to the south I tried to extend south of Inyokern but Skysight showed too weak and it did not feel like we could maintain altitude (when flying in the Sierra wave in the Owens Valley,  getting below 15000' means you're getting pretty low. Because the mountains are so high there, one can experience severe rotor at 16000' and you can be on the ground very quickly, so one must be more conservative there). My last turn point was further north than I liked which meant we had to fly much further north on my last leg into the airmass that had no wave and too much cloud cover. The flight became intense now as I realized it would take all of my concentration and some luck. This is already on a very fatigued mind. When I arrived in the Reno area, I slowed down and flew very conservative. I climbed to my maximum allowed altitude of FL230 and we did some major planning. We determined that Alturas would safely get us beyond 3020 km. The weather there said there were several layers of cloud and an overcast layer. I made my turn toward Alturas looking at solid cloud cover ahead. Knowing I had to descend below a solid cloud cover I headed in the direction of Alturas. I had final glide made but by not much. As I neared the cloud layer I pushed the nose over and got underneath with maybe 100 km to go. I was maneuvering around snow showers and due to the cloud cover the forward visibility was difficult in the direction of Alturas but I did see some sun on the ground ahead. As I got into the sunny area I could see better and made a left turn toward Alturas.  As I arrived about 60 km from Alturas airport I was surrounded by solid clouds ahead all around me. There were snow showers and very dark clouds almost to the ground in the direction of Alturas. My distance on the LX read 2988km. I couldn't believe it. My dream of 3000km was smashed because of the clouds. I turned around and flew south for a bit around clouds and then east above high ground on the south end of the mountain range. I had Cedarville airport as a backup in the computer but was below glide. Because of the cloud cover and my low altitude I had to continue east in order to get around the mountain range west of Cedarville. I flew very carefully and cleared the ridge and flew to a rotor that I circled under to gain lift. I still had 50km to Cedarville and my LX distance still said 2988km. Although the clouds in the sky showed no sign of lift, I found lift under a rotor cu that eventually got me high enough to get into laminar wave. I now had Cedarville airport within glide as I flew northbound to Cedarville. The excitement was crazy since I now knew I would accomplish what I never thought I could do this day. We flew over the airport and continued north for a while until the cloud cover and snow showers prevented us from going further. I turned south and flew back to Cedarville airport where we landed after flying 3058km and 17h40min. UNBELIEVABLE FEELING!!!! First I MUST thank Matthew Scutter with SKYSIGHT for providing such an incredible product that was a MASSIVE help in accomplishing this flight. Thanks Matthew!!!! Thanks to my partner in the Arcus, Bruce for joining me in this wild adventure. Bruce has never flown with NVG's before this flight. Thanks to Tim Gardner for all his help and retrieve the next morning with the Cessna. Thanks Bob Trumbly for helping get our glider back home. Thanks to my wife for letting me do this crazy stuff. Thanks to all the Air Traffic controllers that worked with us and were so very patient and helpful. THANK YOU for all of the people that followed the flight and provided encouragement and wonderful comments. WE ARE A TEAM and that's what it takes to achieve these goals."
Approximately 20 years ago, in January 2003, Klaus Ohlmann, together with Karl Rabeder, achieved the first 3000-kilometer flight in the Andes. They accomplished this feat solely in daylight, covering the distance in 15 hours. It remains an incredible achievement and the unbroken FAI record for free distance.
However, we are continuously amazed by the resourcefulness of the gliding community. Gordon invested immense effort in preparing for the flight and equipping himself accordingly.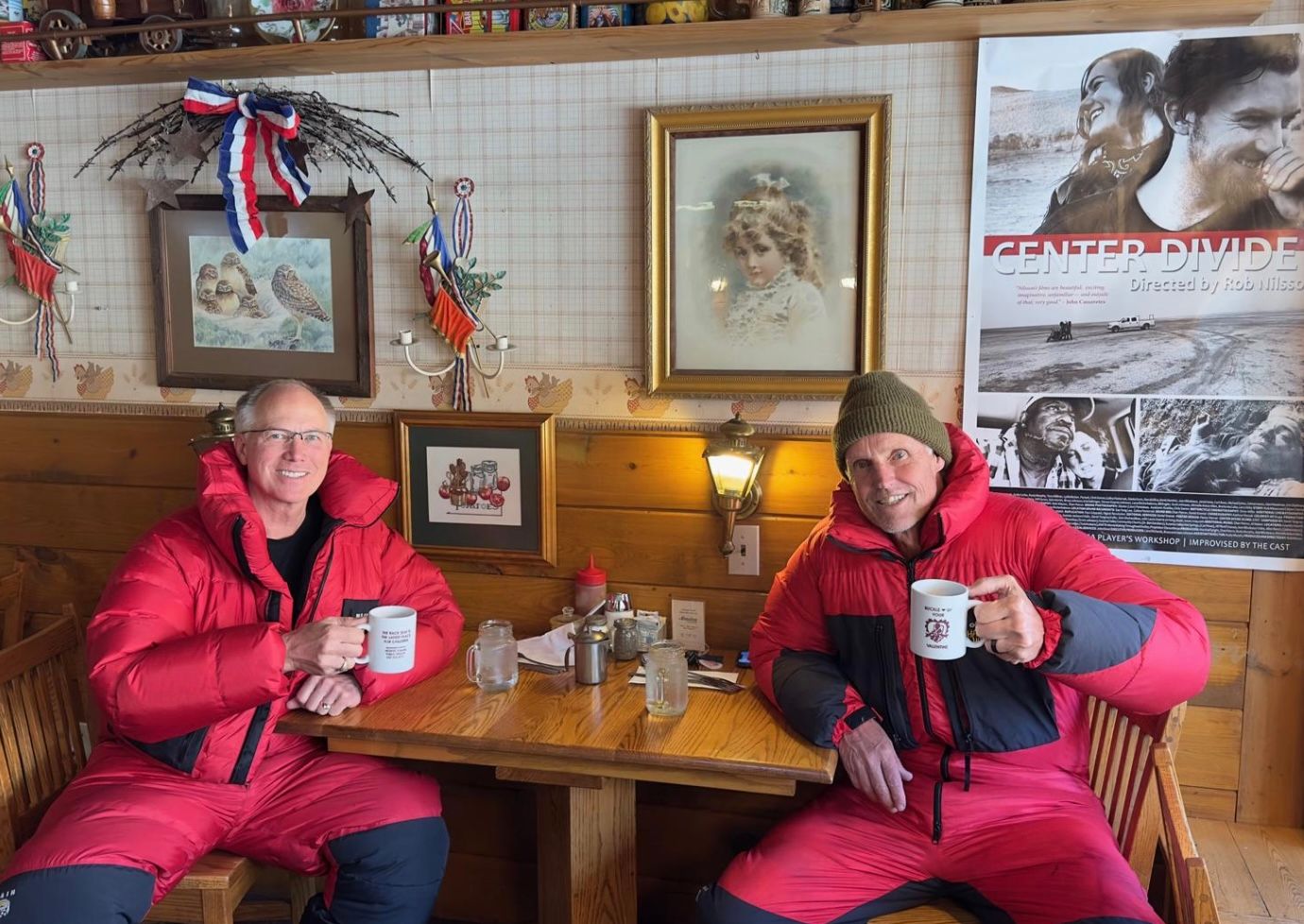 The entire WeGlide team congratulates Gordon and Bruce on this extraordinary accomplishment. Not only were we eagerly following along, but people from around the world also tracked the flight through WeGlide Live. The flight has now received over 900 likes on WeGlide, making it by far the most popular flight on the platform, followed by Klaus Ohlmann's European record. Can we reach 1000 likes? Press the button below and help us get there!
Well, have we piqued your interest? Would you like to learn more about the technique of flying with night vision goggles? Or you're interested in the story behind the Arcus J with its special equipment (it's not the only Arcus J that exists). Maybe you'd like to learn more about Gordon Boettger as a person. Look forward to the next issue of Segelfliegen Magazine, where a comprehensive article will be published.