Andrea Abt | Spread Your Wings and Fly
A conversation with Andrea Abt about winning the DMSt women's ranking, exciting flights abroad, and women in gliding.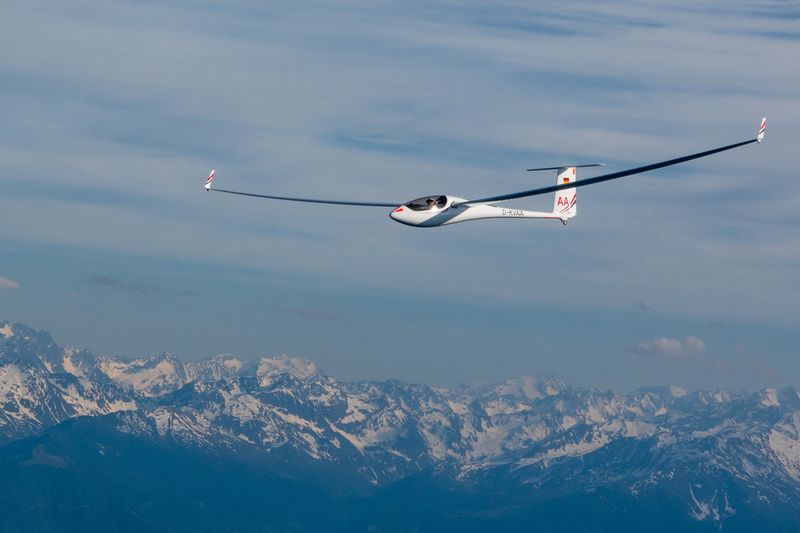 Reading the article "Development of Women in Air Sports and Gliding", which is based on a study by Danish anthropologist and glider pilot Perle Møhl, shocking facts emerge:
Prejudice, stereotypes, and lack of confidence in women's ability to perform continue to play a central role in gliding
The clubs are missing out on about 50% of the population in their membership recruitment
It is all the more impressive when female glider pilots manage to fully unfold their wings and take part in the male-dominated sport. Matthias Arnold recently interviewed Eva Senne, a young female pilot who is currently making extreme progress.
The best about our sport is that you can decide for yourself when you want to fly ambitious, more or less regardless of age. For Andrea Abt (aged 63), other things had been her main focus for a long time. But the latest success with 1st place in the DMSt women's ranking and 13th place in the Open Class ranking show that she is not done with gliding yet. We talked to her:
How and when did you get into gliding?
My first flight was from the airfield of Dierdorf-Wienau in 1986, shortly after I started working for Aerokurier. I ended up there rather by chance because there were no openings in my intended profession as a high school teacher for the foreseeable future and the waiting time would have been too long for me. My work there led to an interest in aviation in general and gliding in particular, which has stayed with me ever since.
Looking at your most recent flights, you fly very ambitiously. Has cross-country flying been a topic for you from the very beginning?
Yes, I have flown cross-country from the beginning, the first real flight was a 385 triangle in 1989 with Gerhard Marzinzik in an ASK 21, and then a few months later the diamond goal with our ASW 20 from Fuentemilanos. Except in the mountains, I never just flew around the airfield but also didn't improve significantly for many years to come.
What do you think was the reason for that?
I had my own glider since 1995, but my career had a much higher priority and my partner flew powered aircraft and supported my gliding, but did not fly gliders himself. Because of my job, I moved house very often, had little time, and flew a maximum of 50 hours a year, mostly on vacation and always alone.
Alone, because I did not want to compare myself at all. Competitions seemed firstly too time-consuming and secondly too stressful for me. From my point of view, I already had enough competition in my job, now in a large industrial company.
At some point, you compared yourself and even flew competitions?
Yes, after I was no longer in such a professionally competitive environment and, above all, had a lot more time, I flew in Bitterwasser, but also in Fayence with very good (competition) pilots such as Reinhard Schramme, Wolfgang Janowitsch, Arndt Hovestadt, Tobi Welsch, Baptiste Innocent, Simon Schröder, Bernd Goretzki. I learned a lot from each and every one of them. For further development, some of them then recommended that I fly competitions, which I did for a while.
Currently, you are flying in Königsdorf, which was not always the case. How important is the flying environment for you to complete such flights?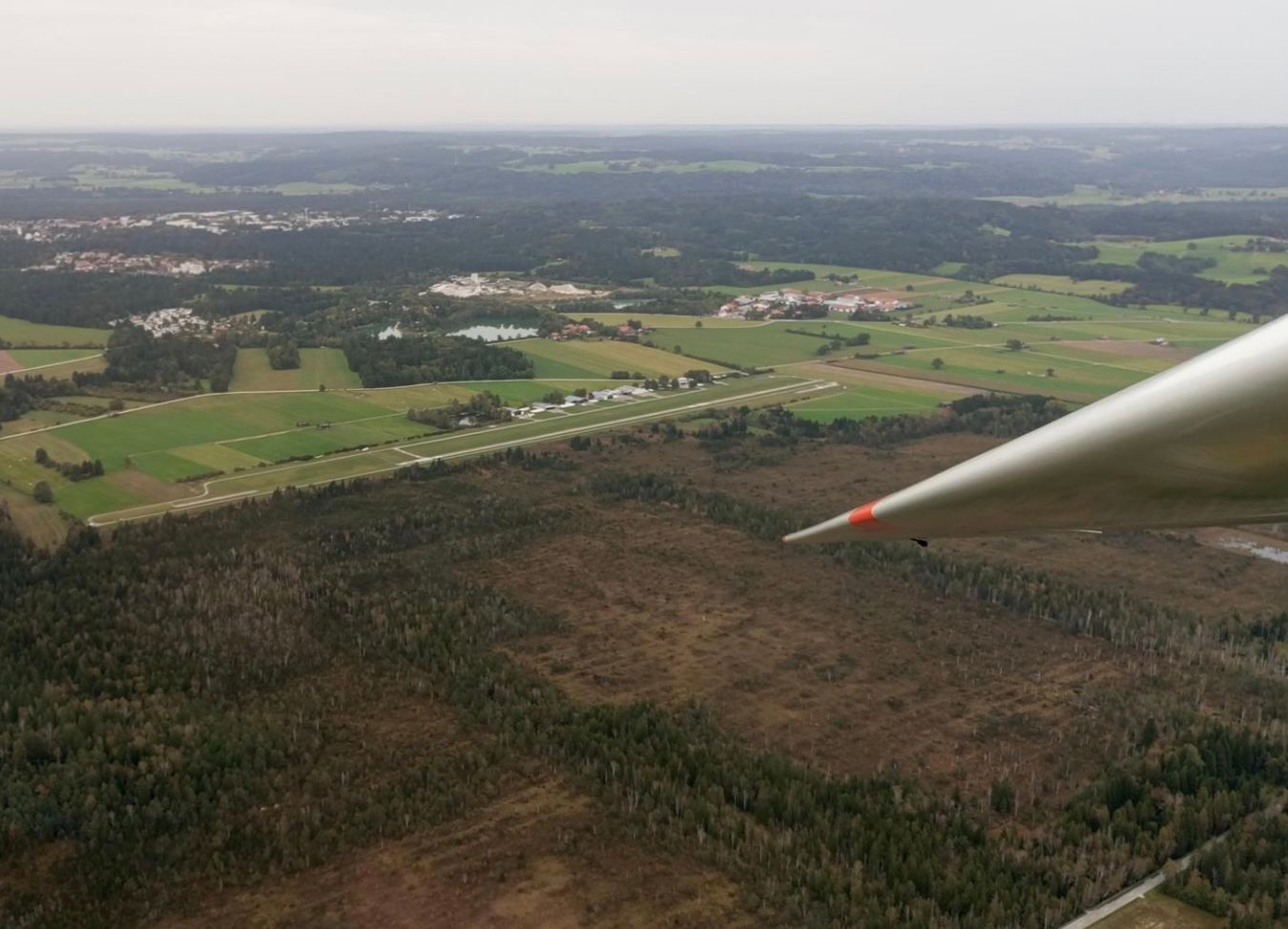 Essential. I went to  Königsdorf in 2018 because we moved to Munich, and I was lucky enough to get a place there for my glider and myself. An environment such as Königsdorf is just great, in every way. My mountain flying today would be unthinkable without Mathias Schunk, Armin Behrendt, Oli Wolfinger, Thomas Wolf, Markus Eggl, Jochen Pauls, and the many other pilots there. They literally took me by the hand and shared their knowledge. The performance density in Königsdorf is unbelievable, and over the years they have perfectly worked out every possible routing so that you can benefit a lot from it. The airfield is situated in beautiful surroundings, and when the weather is flyable at all, somebody will fly; definitely during Bundesliga season.
I have recently found that gliding has taken up too much space in my life. How much time do you think one should invest so that gliding is worth the effort?
Gliding gives me a lot of energy today. The experience, especially in the mountains, but also the result after a particularly successful, big flight virtually electrifies me. But I have to be halfway relaxed when I get into the glider, and for that I simply need practice.
In the past, I flew so rarely that every flight first cost me energy. In retrospect, that often consumed much more energy than I got back. I honestly believe that you should fly a lot regularly to make the whole effort worthwhile. Then you get the most out of it.
However, you need to make sure that you are not totally consumed by it. If you are constantly busy with gliding and also wait day after day for the right weather without considering anything else a sensible alternative, it can get very lonely around you at some point.
When you open the flight log, which one do you remember best? The recent 1000km in the Alps, or another flight?
Experience doesn't necessarily correlate with outcome.
In almost 4000 flying hours I remember many great flights. The first time from Königsdorf to the Matterhorn with Oli Wolfinger and Matthias Sauter is still vivid in my memory, as well as the flight for the 1000-km-diploma from Bitterwasser, which almost failed because of a sandstorm.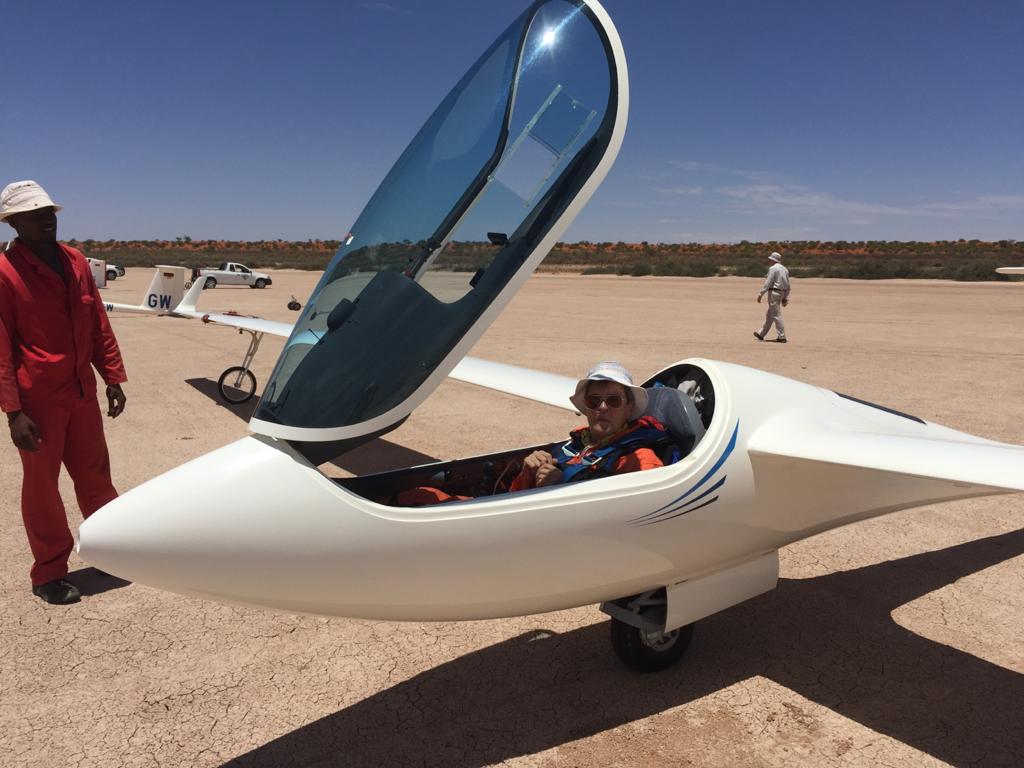 The flight to Furka Pass from Fayence this year was a highlight, but also almost 20 years ago the 5000m take-off elevation in front of a Big Mac Lenti over Lake Como. Also, a not-quite-completed flight around Munich under a big stratus field comes to my mind, or our travel by glider flight to Pirna on the run from Corona restrictions, which ended first on a big field south of Suhl. I even remember a flight over 30 years ago in the Mount Cook wave, when I didn't even have a license and was completely fascinated by the view of the New Zealand Alps on one side and the turquoise lakes on the other. Experience does not necessarily correlate with results.
You are always trying to expand your horizons. What are your goals for the future after the successful 2023 season?
Analyze more, now also with Weglide, and thus continue to improve, become faster, more large thermal flights in the mountains, and maybe I dare to a cross-country flight in the wave.
Gliding is a sport in which women and men are on equal footing. Yet female glider pilots are few and far between. Can you understand why?
According to a recent study, mainly the general constraints make the sport even less attractive for women than for men. You need a lot of time if you do it with club gliders or the money for your own glider, and also a lot of time, and considerable confidence in your own abilities.
Women with families in particular tend to have less time for passions of their own, and there is often simply not enough money to pursue them.
Then there is prejudice. If you fly as a woman in a two-seater, everyone assumes that you are not responsible for the performance, regardless of which other man was in the cockpit. Competitions or records are often 'only' women's achievements and are sometimes derided behind closed doors. It's like this: As a glider pilot, you need a very clear compass of your own, and the desire to fly must be strong. Just forget about what others say.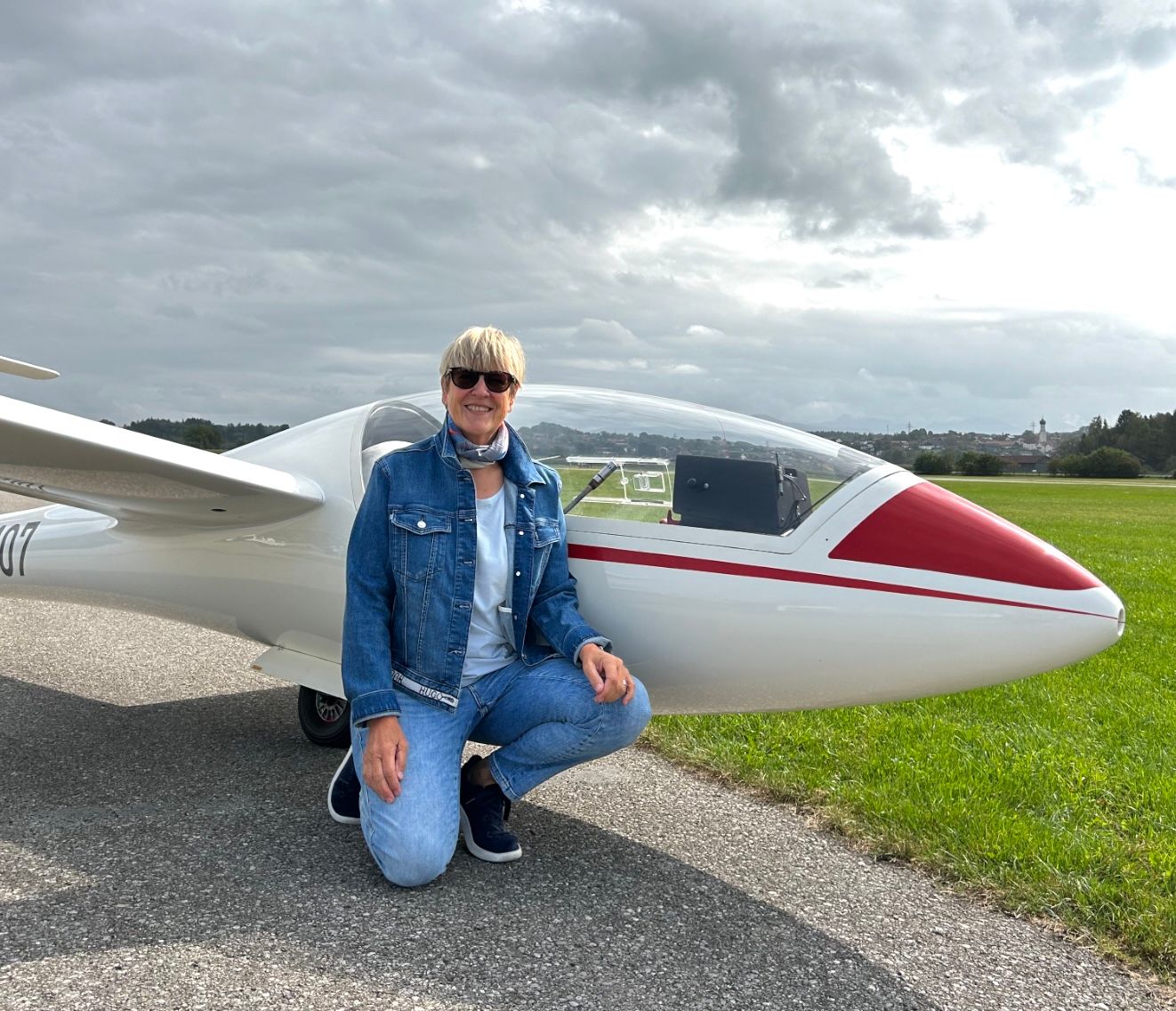 Do you get a kick out of competing in a male-dominated sport or is it the pure fascination of flying?
I enjoy being involved in this sport. If more women joined in, it would be more enjoyable.
Let's say you were at the beginning of your gliding career, what would you do differently?
Today I would take every opportunity to learn better and fly much more with others. This is possible in two-seaters, but also in team flying with single-seaters. Bundesliga flying offers an ideal opportunity to compare yourself but with a common goal: to score as many points as possible for the club. That's what has pushed me the most in the last few years.
Do you have any tips for female pilots who are at the beginning of their gliding career?
Learn as much as you can from others. Always try to fly with better people, but don't be discouraged if you don't succeed at everything right away. Be proud of your achievements, document them, and don't belittle them or let them be belittled. Just don't let yourselves be distracted and go your own way - Spread Your Wings and Fly.
---
If you would like to receive articles like this directly by email, you can sign up for this in your profile: