Newsletter #10
Glückliche Gewinner, spannender Lesestoff und neue Funktionen. Die Saison war ein voller Erfolg. Besucht uns am Segelfliegertag. Happy Winners, interesting reading material, and new features. This season was a great success.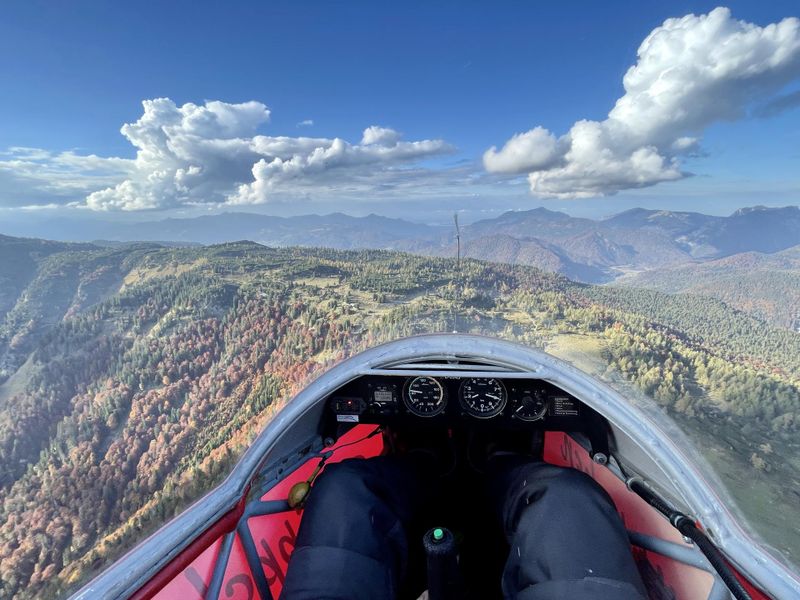 -- English below --
Bereits die zweite Saison mit WeGlide ist nun Geschichte. Es gab spannende Langstreckenflüge, enge Liga-Endspurte und tolle Bilder.
Auch wenn beispielsweise die australischen Pilotinnen und Piloten aktuell noch unter sehr feuchten Böden leiden, freuen wir uns auf spannende Flugberichte und Impressionen von der südlichen Hemisphäre.
Diese Saison haben sich mehr als 6400 neue Pilotinnen und Piloten der WeGlide-Community angeschlossen. Ihr habt mehr als 80.000 Bilder von Sonnenaufgängen, Wolkenstraßen, Gewitterwolken oder euren Copiloten hochgeladen. Zusammen sind wir mehr als 27 Millionen Kilometer mit der Kraft der Sonne geflogen, das ist mehr als 70 Mal die Strecke zum Mond.
Dank dir und deiner Flüge sind wir mittlerweile die größte Segelflugseite weltweit, einfach unglaublich!
Medien & Veranstaltungen
Seit einigen Wochen tritt unser Magazin in einem neuen Look auf. Unter magazine.weglide.org kannst du ab jetzt ganz übersichtlich durch alte Interviews scrollen oder Artikel zu einzelnen Analyse-Tools finden. Oben rechts kannst du die passende Sprache auswählen.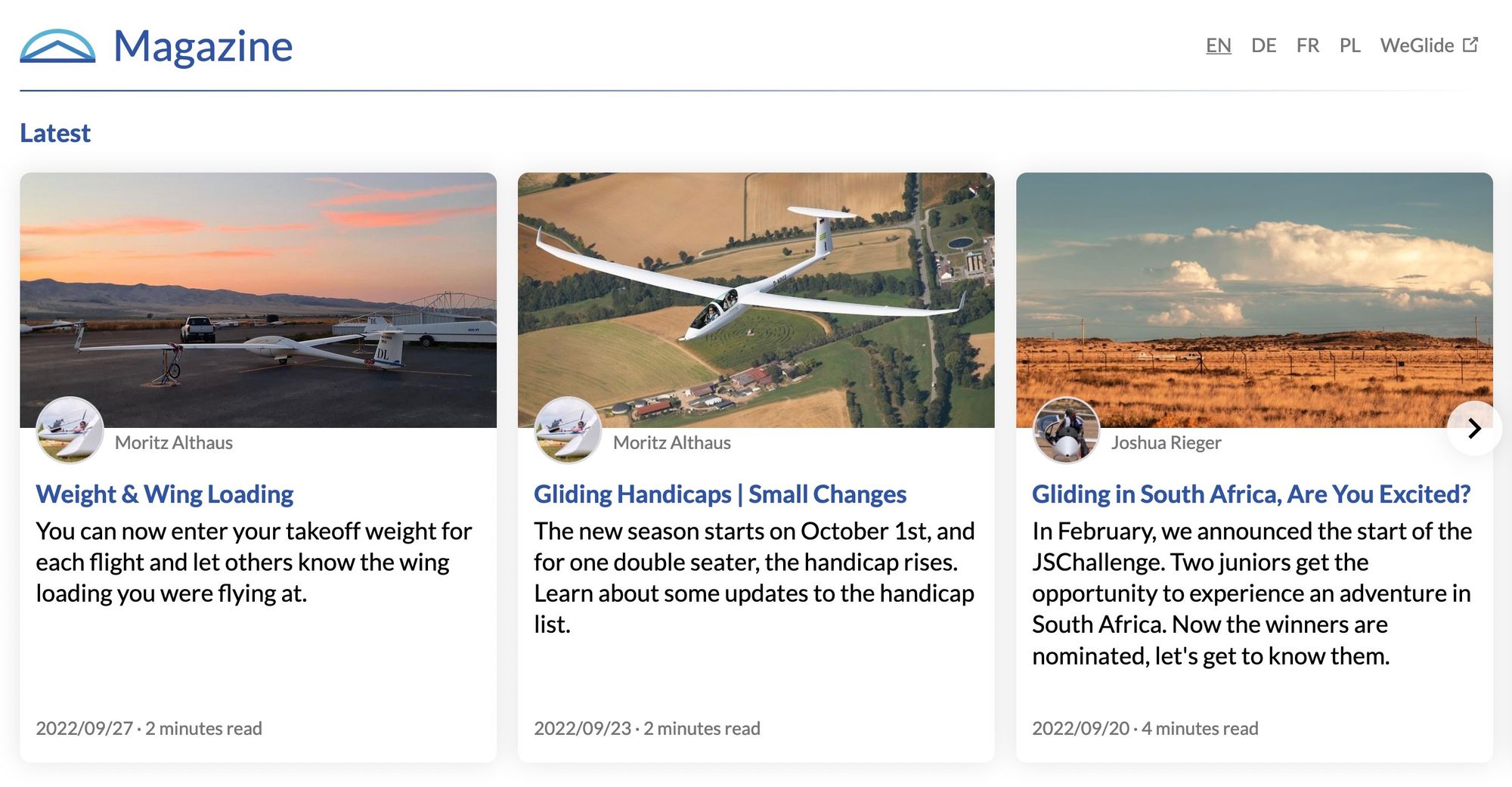 Nachdem die letzten Jahre hauptsächlich von Online-Webinaren geprägt waren, freuen wir uns umso mehr, dich persönlich beim deutschen Segelfliegertag 2022 in Koblenz zu treffen. Du findest uns am Stand der Luftsportjugend, komm doch einfach mal vorbei und erzähl uns deine Ideen.
Gewinner
Zum Ende der Saison möchten wir euch allen zu tollen Leistungen gratulieren. Deine Urkunden zu dieser Saison kannst du bei dir im Profil herunterladen. Fangen wir mit den drei Besten des WeGlide Distance Cup an, die wirklich unglaubliche Strecken zurückgelegt haben:
🥇Baptiste Innocent, 6518 pt
🥈Alexander Müller, 6324 pt
🥉Guy Bechtold, 6191 pt
Weiter geht es mit den schnellsten Männern und Frauen des Planeten, die WeGlide Speed Champions!
🥇Juan Pablo Verdura, 599 pt
🥈James G Lee, 551 pt
🥉Baptiste Innocent, 534 pt
Eine beeindruckende Leistung aller Piloten. Wir freuen uns sehr, dass neben den etablierten Wertungen auch unsere neuen Ansätze wie der Zielrück Cup auf den Spuren von Hans-Werner Grosse, oder der Travel Cup mit großem Interesse geflogen werden. Das motiviert uns, weiter an neuen Ideen zu feilen, um der unglaublichen Vielfältigkeit des Segelfluges gerecht zu werden.
Du fragst dich, wie deine Vereinskameradinnen und du abgeschnitten habt? Dafür kannst du einfach hier im Ranking nach deinem Verein filtern.
Apropos Verein, welcher Club konnte hier die stärkste Teamleistung erbringen? Das war mit 89 Pilotinnen und Piloten, 947 Flügen und 372.000 km das SFZ Königsdorf - Gratulation!
Höher, schneller, weiter?
Wie in alten Zeiten, jedoch dieses Mal nicht an der Düne, sondern am Hirzenhainer Hang in Hessen. Markus Beckmann knackt den dortigen Dauerflugrekord, indem er 16 Stunden mit der K 8 unterwegs ist. Markus, wir hoffen, du hattest genügend Sitzkissen dabei! Hier gehts zum Flug.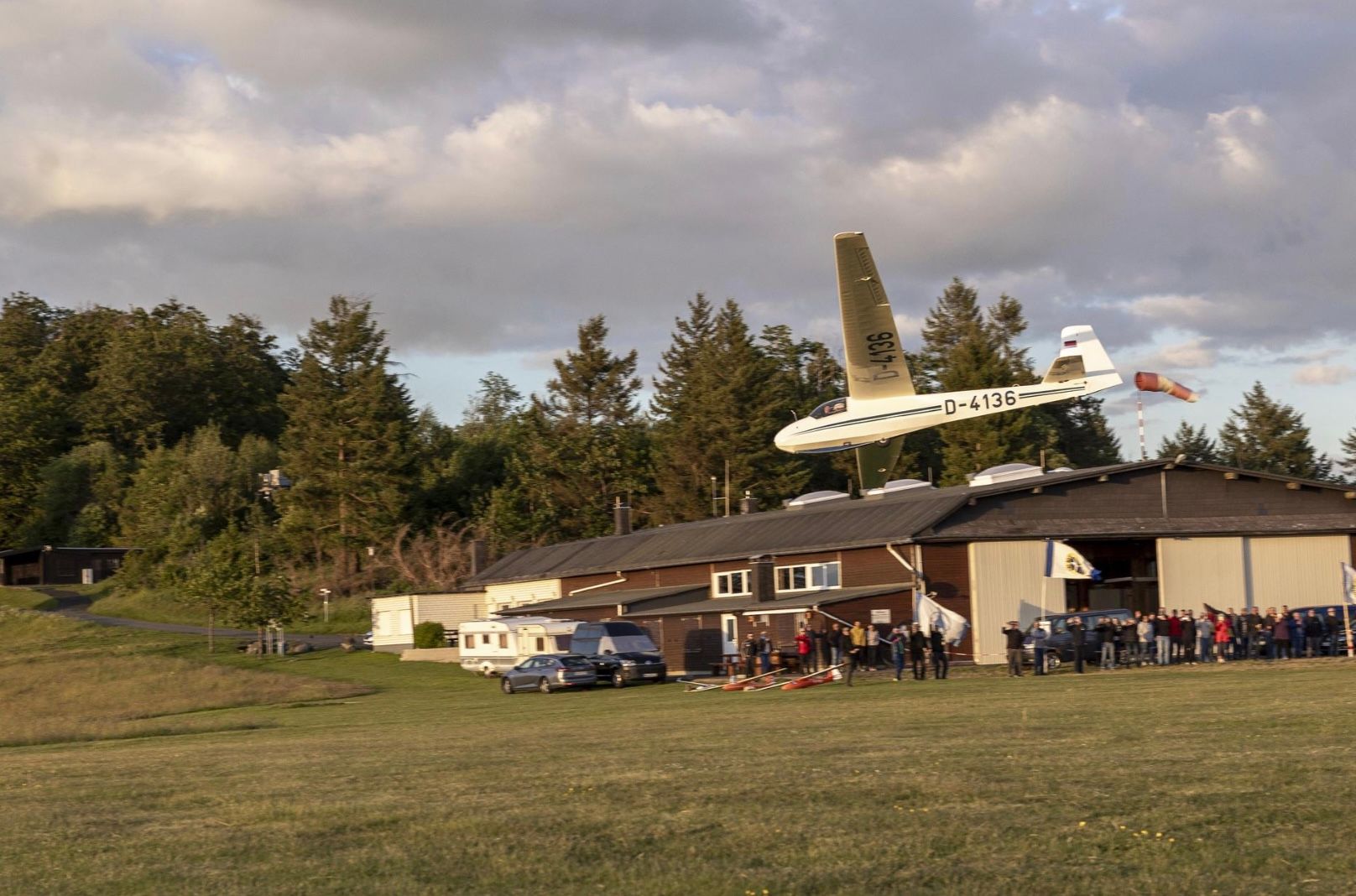 Nicht ganz so lange, dafür umso weiter war Jan Lyczywek unterwegs. Von Bayern bis nach Südfrankreich, vorbei an den Eisriesen und das mit seiner Ka 6. Ein wohl unvergessliches Erlebnis. Hier gehts zum Flug.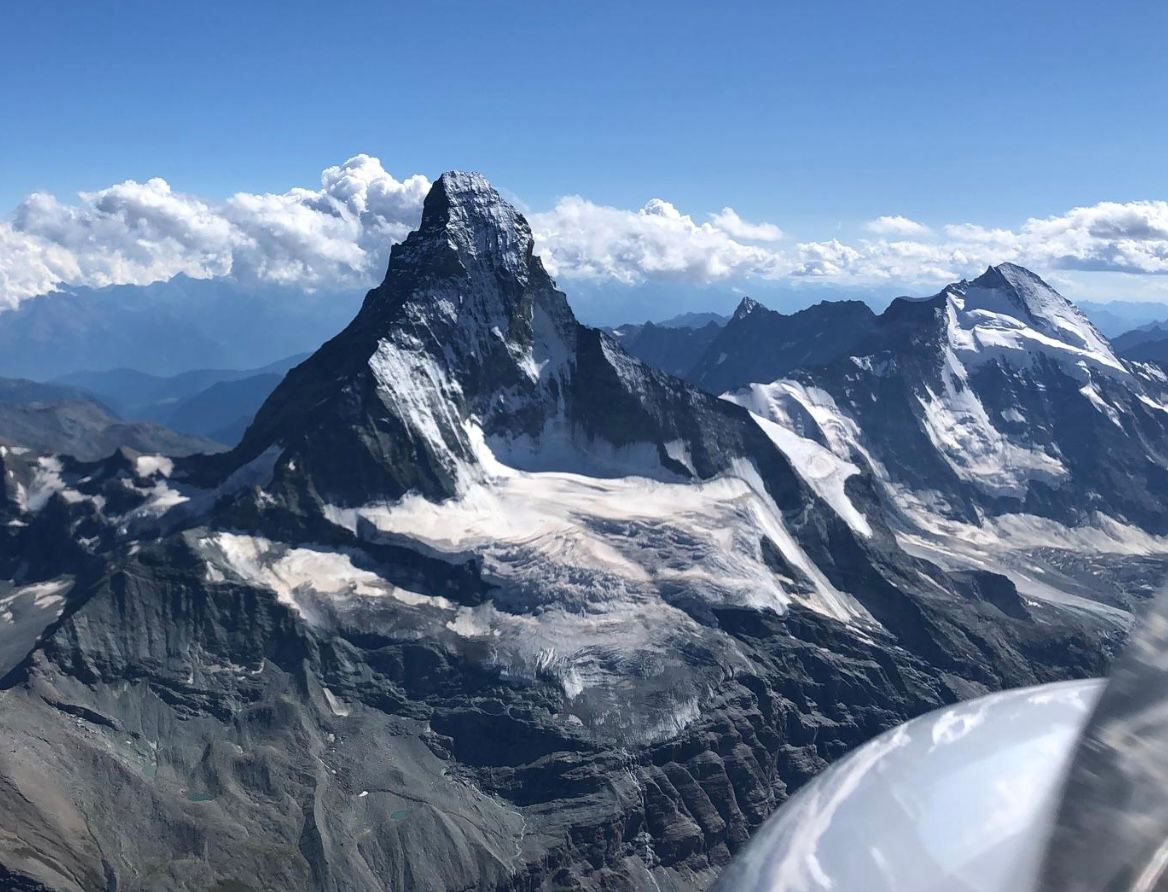 DMSt-Bundesliga
Die Bundesliga war ein voller Erfolg. Wir haben großen Wert darauf gelegt, euch jede Woche auf dem Laufenden zu halten und so den Grundstein für spannende nächste Jahre gelegt. Am Ende konnte sich Burgdorf zum deutschen Meister küren. Wenn ihr die Liga an einem gemütlichen Abend nochmal Revue passieren lassen wollt, könnt ihr ganz einfach im Magazin in der Rubrik DMSt stöbern. Welches Segelflugzeug wurde am häufigsten in der Liga bewegt? Moritz hat kürzlich im Magazin noch ein paar interessante Statistiken zur Liga veröffentlicht. Viel Spaß beim Lesen.
Förderprogramme
Unsere Freunde von Jonker Sailplanes haben im Rahmen der JS Challenge zwei Junioren (einen aus Europa und einem aus den anderen Teilen der Welt) zu den südafrikanischen Meisterschaften nach Potchefstroom eingelanden. Die Glücklichen waren dieses Jahr Niklas Hahn aus Niedersachsen und Zachary Yamauchi aus Kalifornien. Erst vor ein paar Tagen sind, die beiden zurück in die Heimat geflogen. Hier findest du ein Interview, falls du die beiden etwas näher kennen lernen möchtest.
Beide hatten eine klasse Zeit, konnten sich jeweils an zwei Tagen aufs Treppchen fliegen und haben viele tolle Eindrücke gesammelt.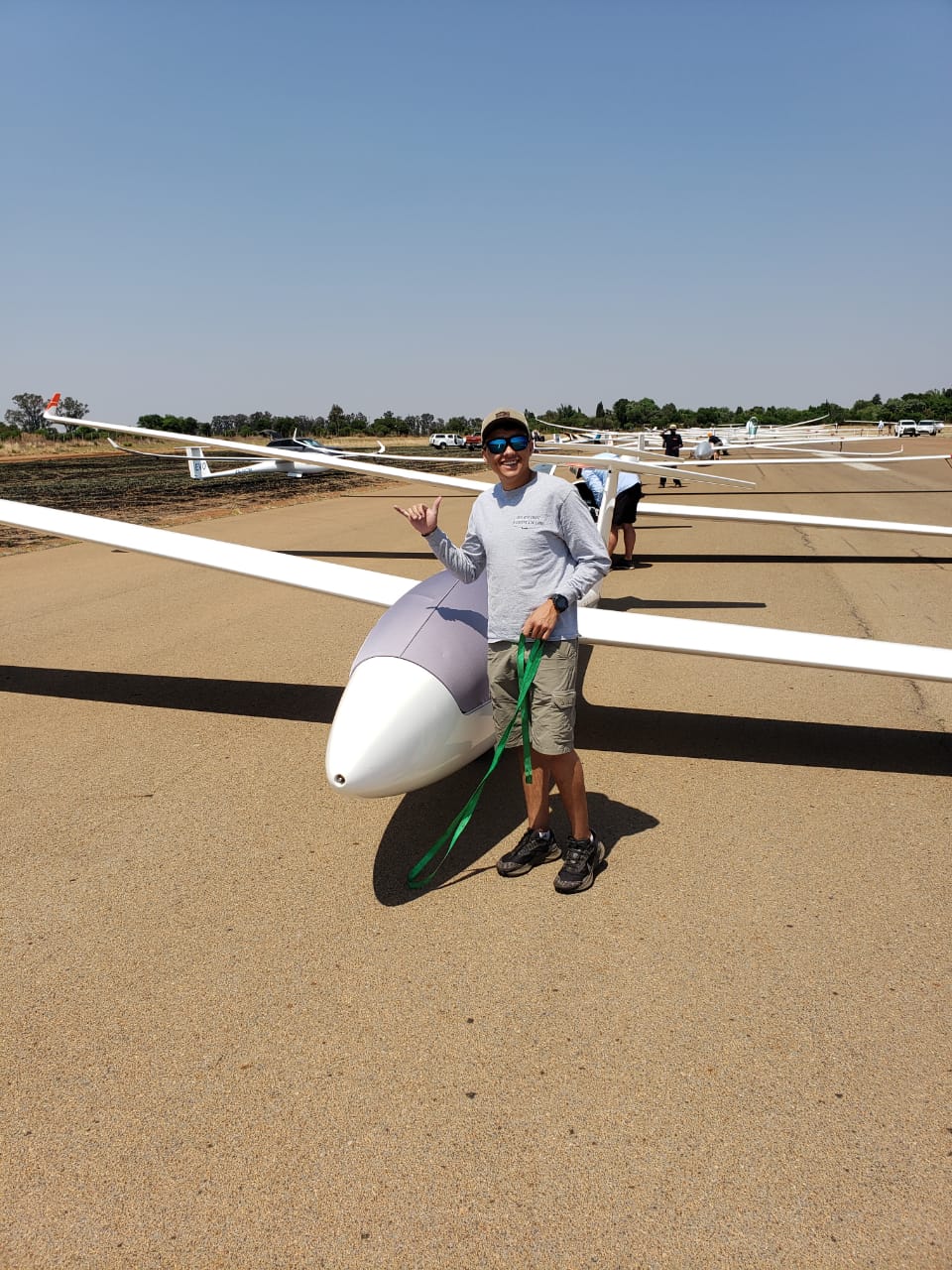 Die diesjährigen WeCoach Gewinner stehen ebenfalls fest. Viele Juniorinnen und Junioren konnten diese Saison mit spektakulären Flügen überzeugen, doch vier von ihnen haben das Gremium besonders beeindruckt und das Ticket für das Coaching in den französischen und südafrikanischen Bergen gelöst. Nach Worcester fahren Julia Steinle & Karol Müller, nach Puimoisson Lukas Brune & Jannis Däuble
Das entsprechende Ranking findest du hier.
Reise Cup
Beim Segelfliegen geht es darum, neue Orte zu entdecken und andere Menschen zu treffen. Darum, morgens nicht zu wissen, wo man am Abend landen wird. Wie wärs, in dieser Saison an einer ganz neuen Challenge teilzunehmen? Der Travel Cup könnte genau richtig für dich sein. Dabei geht es darum, eine möglichst große Strecke mit mehreren Flügen abzudecken, wobei man nicht am Startflugplatz landen darf.
Felix Kries und Stefan Langer haben das direkt mal ausprobiert und mit ihren Clubklasseflugzeugen mehr als 3900 km zurückgelegt. Sie haben den Eiffellturm und die Ostsee gesehen, schöne Morgenstunden am See genossen, und das ganze auch in einem Video festgehalten. Ihre Reise auf WeGlide findest du hier.
Mit ihrer Reise belegten sie Platz vier und fünf im diesjährigen Travel-Ranking.
Features
Zwar ist das gesamte Team im Sommer auch selbst zum Fliegen gekommen, die Entwicklung neuer Features wurde davon aber nicht gebremst.
Wusstest du schon, dass du auf WeGlide nach Wörtern wie Außenlandung, Junioren, Frauen oder Vintage filtern kannst? Neu dazugekommen sind jetzt die Filter 'Motor' und 'Kein Motor'.

Vielleicht hast du es schon entdeckt - zu jedem Flug kannst du nun dein Abfluggewicht angeben. Dann wird auf der Flugseite deine Flächenbelastung  bei deinem Flugzeug angezeigt. So kannst du zum einen herausfinden, mit welcher Flächenbelastungen die Tagessiegerin unterwegs war. Du kannst aber auch beim Analysieren deiner Flüge feststellen, wie dein Kreisradius mit deiner Flächenbelastung korreliert.
Viele von euch fliegen mit XCSoar. Wie du deine mit WeGlide geplante Aufgabe ab nun mit wenigen Klicks nach XCSoar laden kannst, erklärt Johannes hier: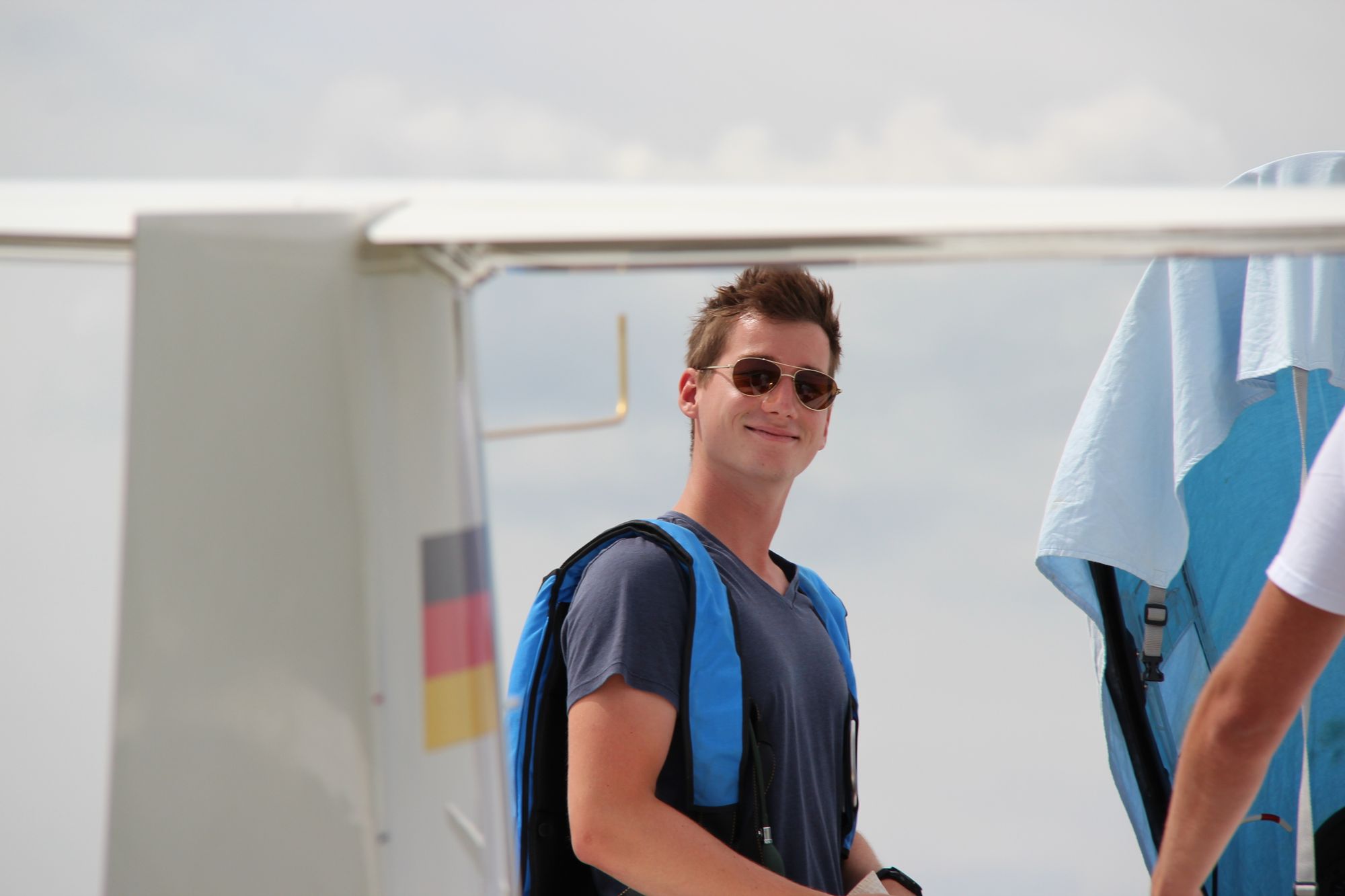 WeGlide startete ganz zu Beginn mit den charakteristischen bunten Höhenkarten. Seitdem sind für Supporter die HD Satellitenkarten hinzugekommen und ab jetzt gibt es für alle die neuen topografischen Karten mit vielen Details, z.B. Seilbahnen. Schreibe uns gerne, welche Dinge dir wichtig sind an guten Flugkarten.
Ausblick
Segelfliegen findet in drei Dimensionen statt. Auf WeGlide bisher nur in zwei. Ob das so bleiben sollte? Wir finden nein und sind kräftig am Arbeiten.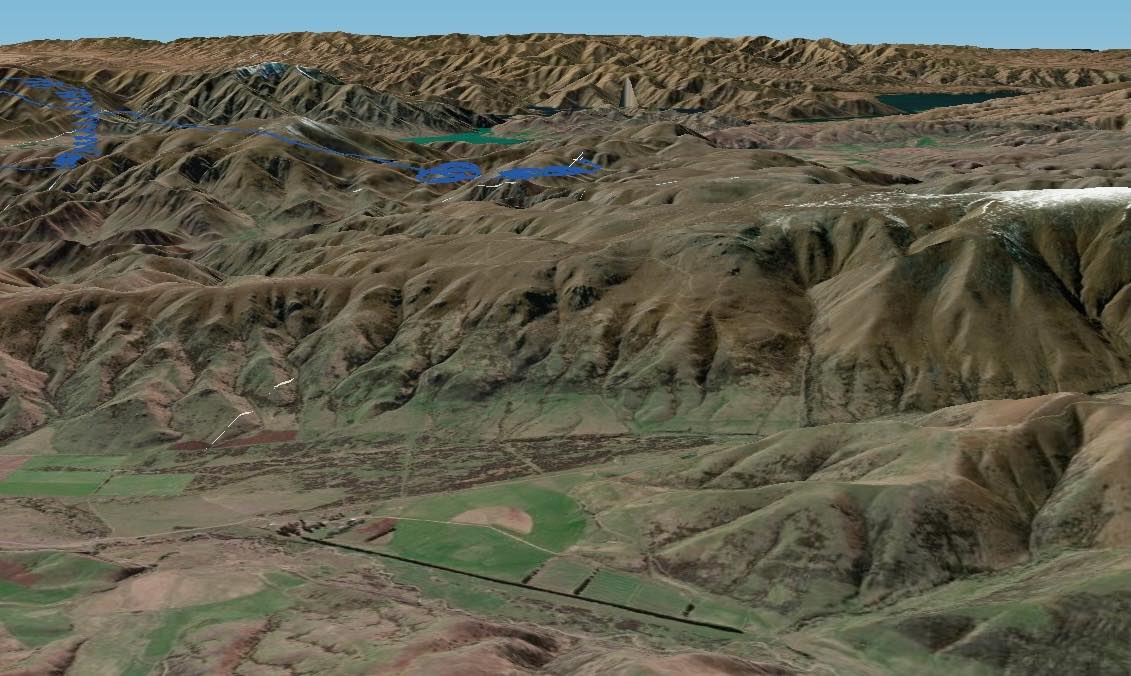 Im Frühjahr haben wir mit Supporter und Premium ein Abo-Modell auf WeGlide gestartet. An dieser Stelle ein herzliches Dankeschön an alle, die sich entschieden haben uns zu unterstützen und uns so ermöglichen, WeGlide mit viel Energie weiterzuentwickeln. Es ist toll zu sehen, dass unsere Arbeit so vielen Menschen am Herzen liegt.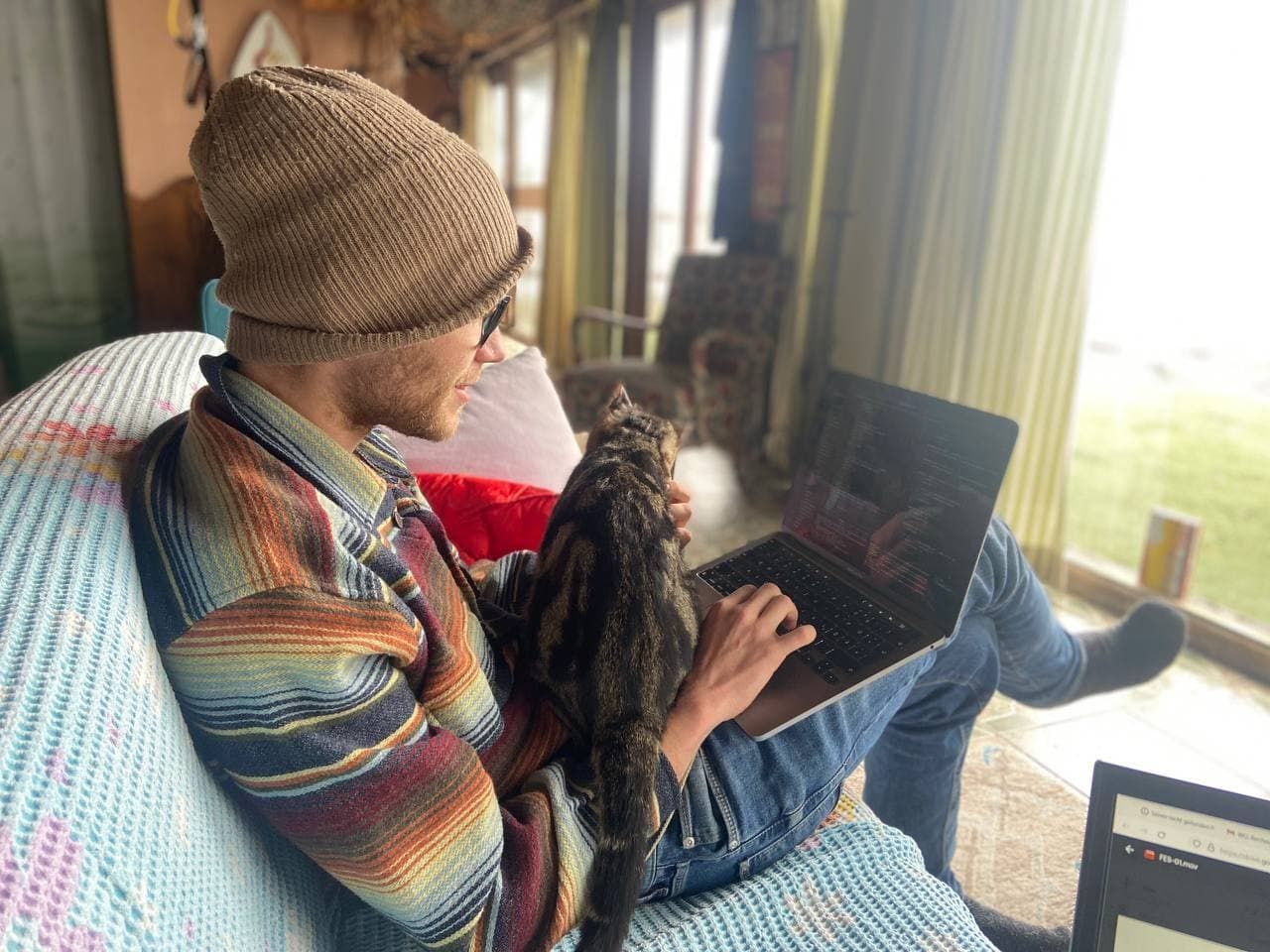 Ohne euch alle wäre es die letzten beiden Jahre nicht so toll gelaufen wie es gelaufen ist. Vielen Dank.
Johannes, Samuel, Joshua und Moritz
---
The second season with WeGlide is already history. There were exciting long-distance flights, close league finishes, and great pictures.
Even though the Australian pilots, for example, are currently still suffering from very wet soils, we are looking forward to exciting flight reports and impressions from the southern hemisphere.
This season, more than 6400 new pilots have joined the WeGlide community. You have uploaded more than 80,000 pictures of sunrises, cloud streets, thunderclouds, or your co-pilots. Together, we've flown more than 27 million kilometers with the power of the sun, which is more than 70 times the distance to the moon.
Thanks to you and your flights we are now the largest gliding site in the world, just incredible!
Media & Events
For a few weeks, our magazine has had a new look. At magazine.weglide.org you can now scroll through old interviews or find articles on individual analysis tools. In the upper right corner, you can select your language.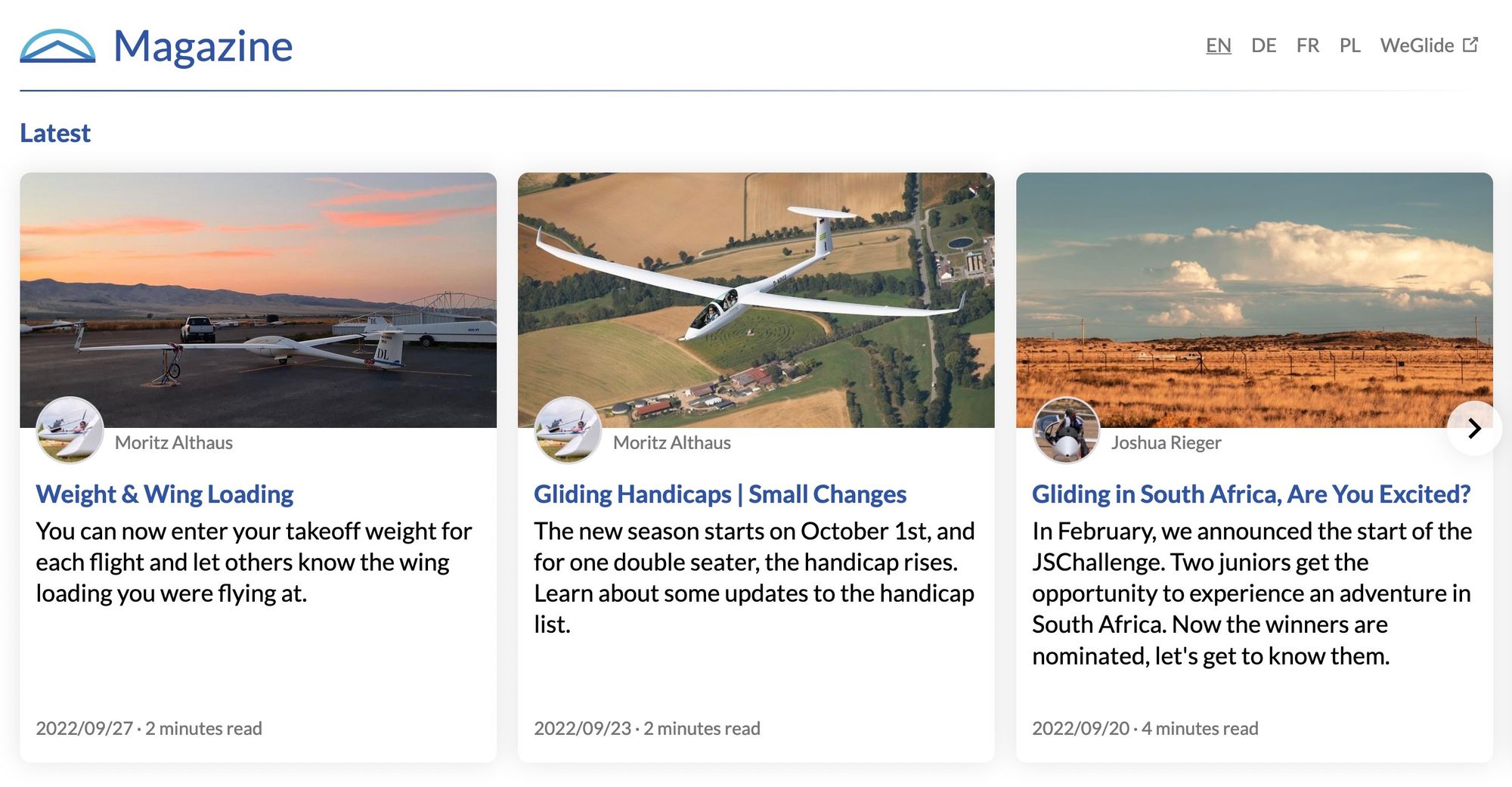 After the last few years were mainly characterized by online webinars, we are more excited than ever to meet you in person at the German Gliding Day 2022 in Koblenz. You can find us at the Luftsportjugend booth, just come by and tell us your ideas.
Winner
At the end of the season, we would like to congratulate all of you for your great achievements. You can download your certificates for this season in your profile. Let's start with the top three finishers of the WeGlide Distance Cup, who covered some really incredible distances:
🥇Baptiste Innocent, 6518 pt
🥈Alexander Müller, 6324 pt
🥉Guy Bechtold, 6191 pt
Continuing with the fastest men and women on the planet, the WeGlide Speed Champions!
🥇Juan Pablo Verdura, 599 pt
🥈James G Lee, 551 pt
🥉Baptiste Innocent, 534 pt
An impressive performance by all pilots. We are very pleased that in addition to the established competitions, our new approaches such as the Out & Return Cup in the footsteps of Hans-Werner Grosse or the Travel Cup are flown with great interest. This motivates us to continue working on new ideas to do justice to the incredible diversity of gliding.
Are you wondering how you and your clubmates did? For that, you can simply filter for your club here in the ranking.
Speaking of clubs, which club had the most robust team performance? With 89 pilots and 947 flights, SFZ Königsdorf was able to cover about 372,000 km, which is amazingly close to the distance to the moon, congratulations!
Higher, faster, further?
Like in the old days, but this time not at the dunes, but at the Hirzenhainer Hang in Hesse. Markus Beckmann breaks the endurance flight record there by flying 16 hours with the K8. Markus, we hope you had enough seat cushions with you! Click here for the flight.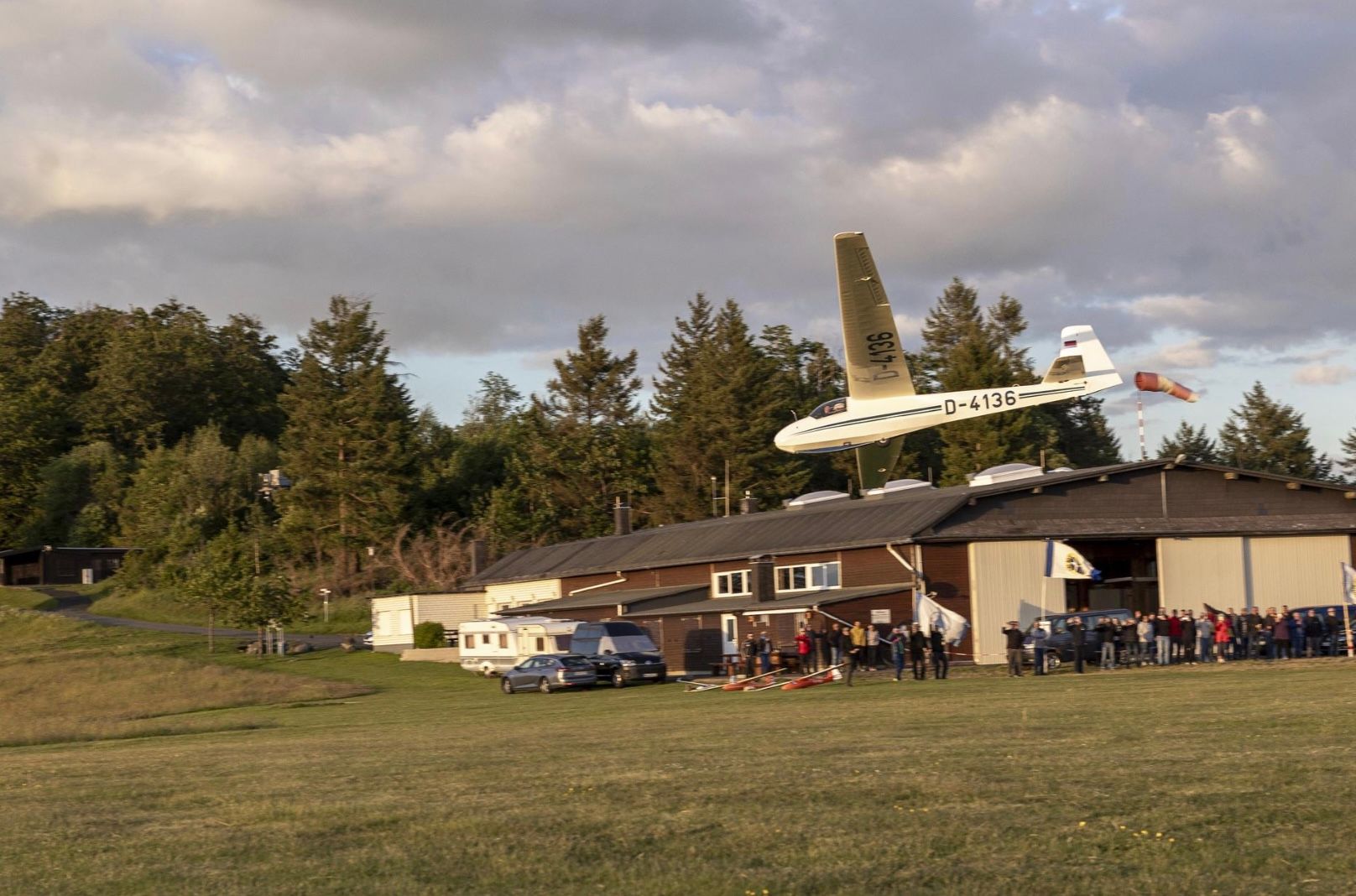 Jan Lyczywek did not travel quite as long, but all the further. From Bavaria to southern France, past the ice giants and that, with his Ka 6. An unforgettable experience. Click here for the flight.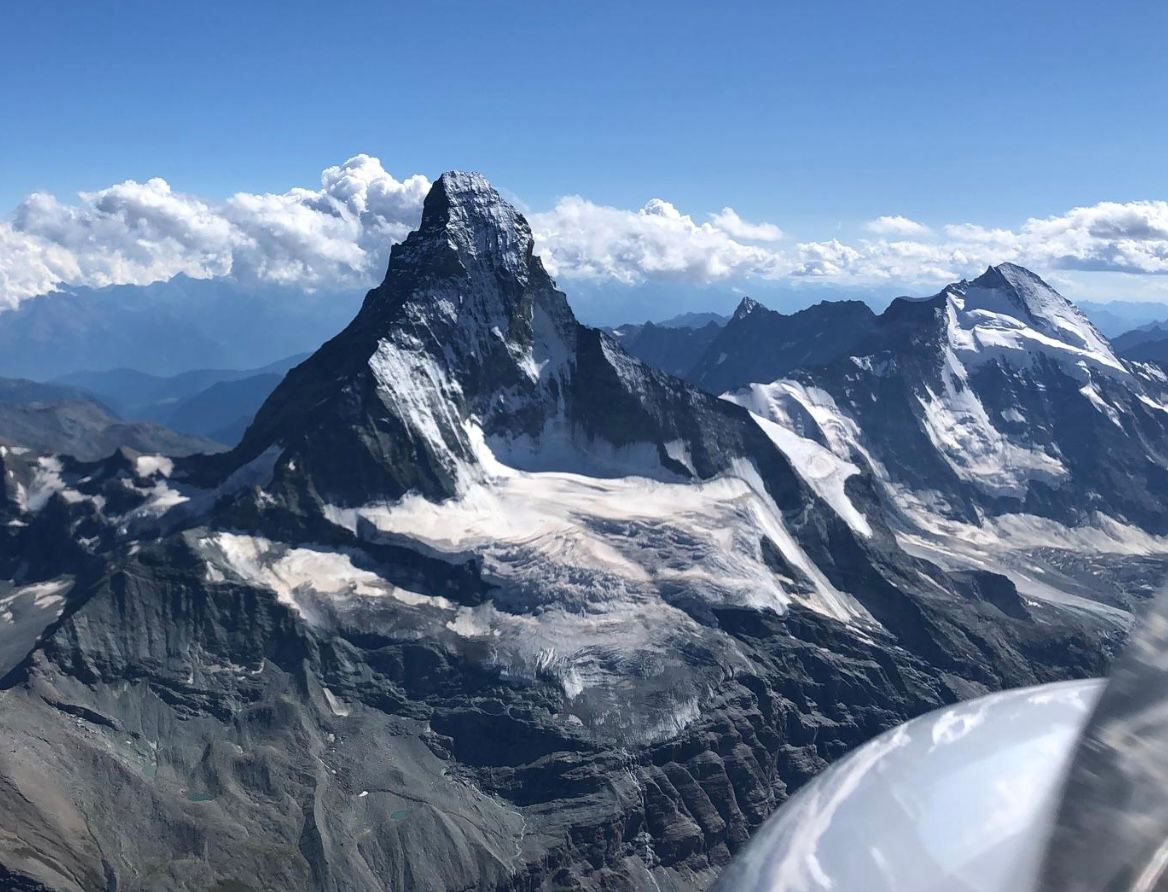 Sponsorship Programs

Our friends at Jonker Sailplanes invited two juniors to the South African Championships in Potchefstroom as part of the JS Challenge. The lucky ones this year were Niklas Hahn from Lower Saxony and Zachary Yamauchi from California. Only a few days ago, the two flew back home. Here you can find an interview if you want to get to know them a bit better.
Both had a great time, were able to fly to the podium on two days each, and collected many great impressions.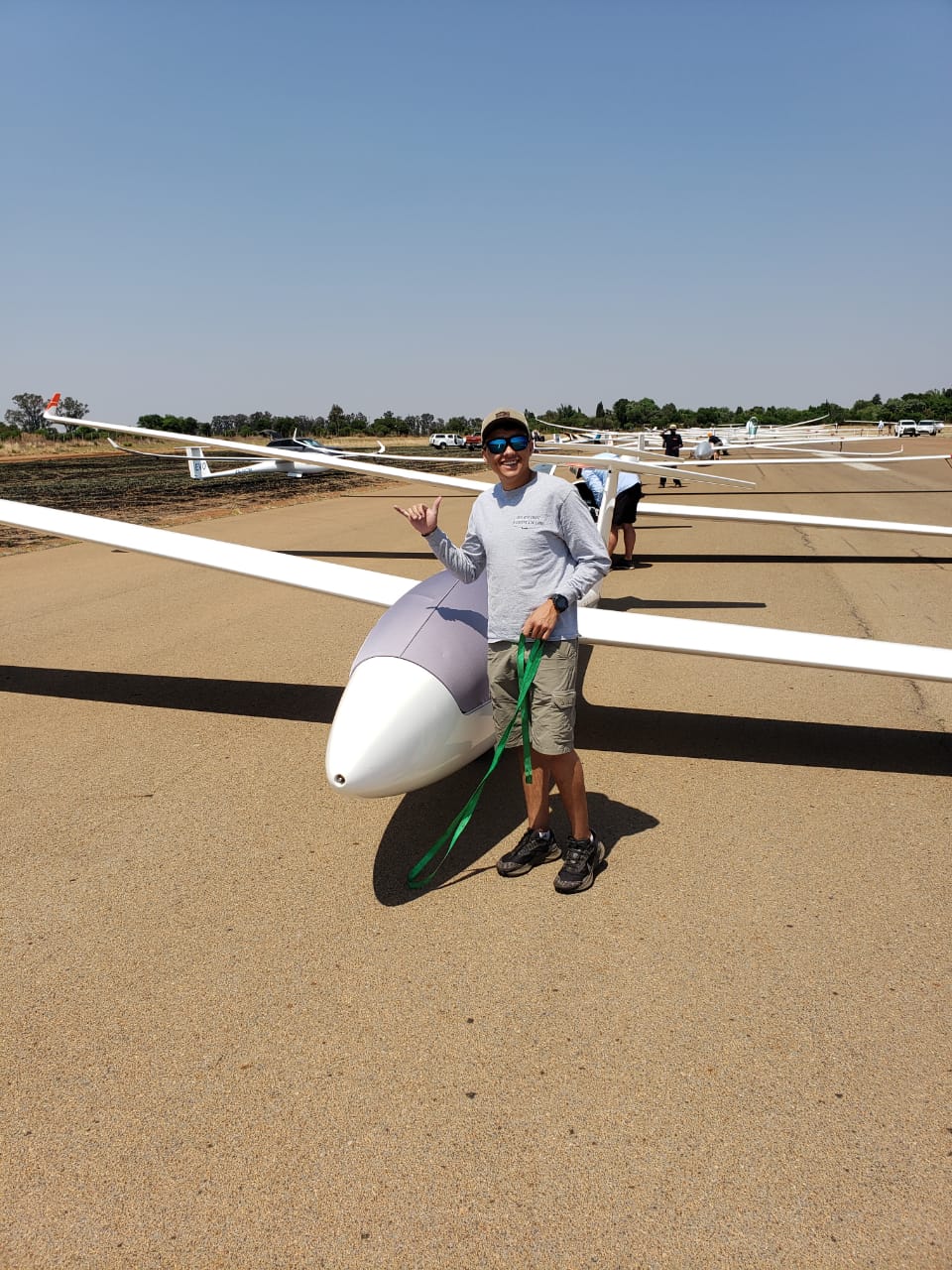 This year's WeCoach winners have also been announced. Many juniors were able to impress with spectacular flights this season, but four of them particularly impressed the panel and won the ticket for coaching in the French and South African mountains. Julia Steinle & Karol Müller are going to Worcester, Lukas Brune & Jannis Däuble to Puimoisson. You can find the ranking here.
Travel Cup
Gliding is about discovering new places and meeting other people. It's about not knowing in the morning where you'll land in the evening. How about taking part in a whole new challenge this season? The WeGlide Travel Cup might be just right for you. The idea is to cover as large a distance as possible with several flights, whereby you are not allowed to land at the take-off airfield.
Felix Kries and Stefan Langer tried it out right away and covered more than 3900 km with their club class aircraft. They saw the Eiffel Tower and the Baltic Sea, enjoyed beautiful mornings at the lake, and also recorded the whole thing in a video. You can find their journey on WeGlide here.
Their trip put them in fourth and fifth place in this year's Travel Rankings.
Features
While the entire team also got to fly themselves during the summer, it didn't slow down the development of new features.
Did you know that on WeGlide you can filter for words like outlanding, juniors, women, or vintage? Newly added are the filters 'engine' and 'no engine'.

Maybe you have already discovered it - you can now enter your takeoff weight for each flight. Then your wing loading is displayed on the flight page for your aircraft. So you can find out with which wing loading the winner of the day was flying. You can also analyze your flights to see how your circle radius correlates with your wing loading.
Many of you fly with XCSoar. Johannes explains here how you can upload your task planned with WeGlide to XCSoar with a few clicks: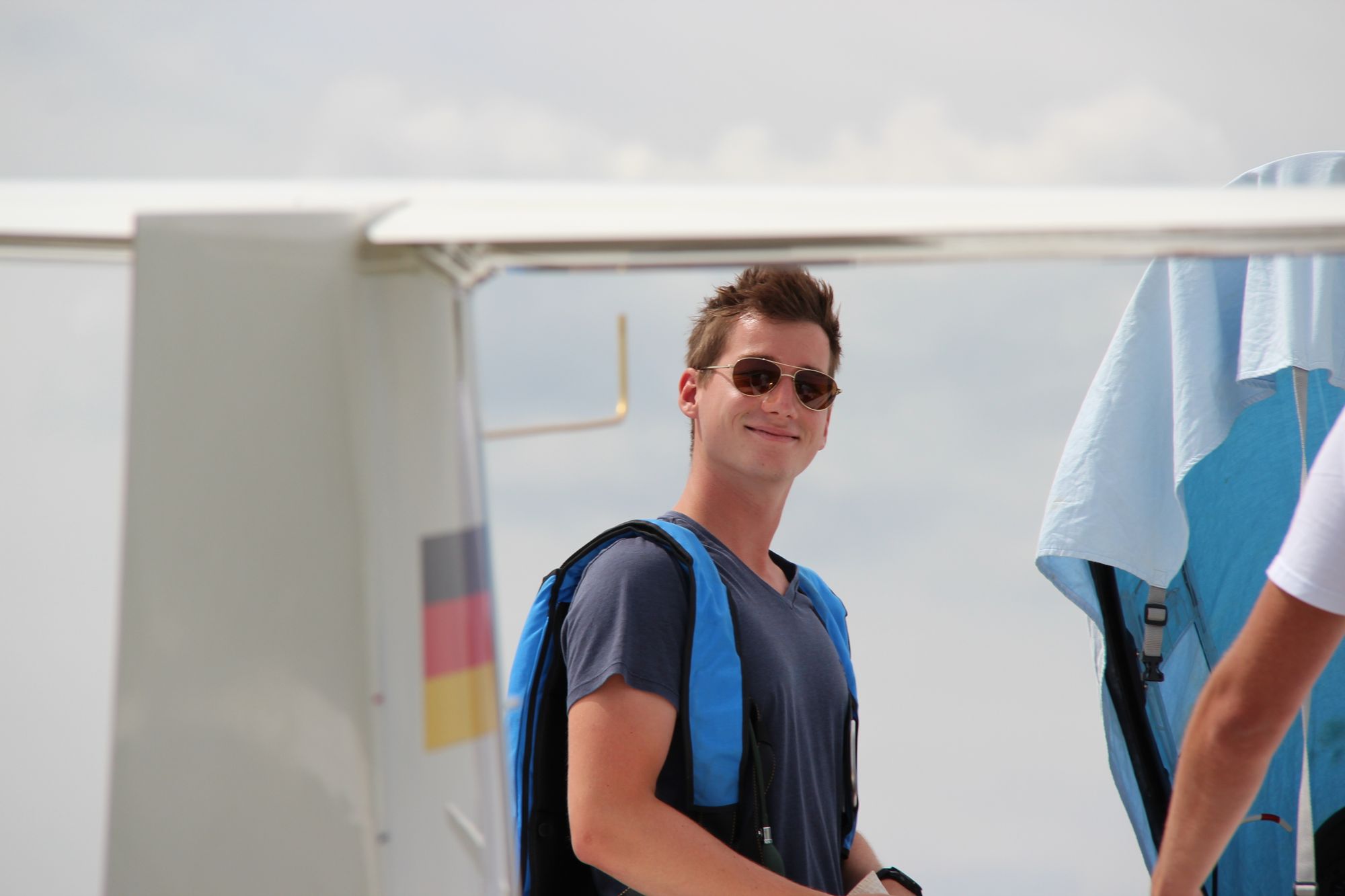 WeGlide started at the very beginning with the characteristic colorful elevation maps, since then the HD satellite maps have been added for supporters and now there are the new topographic maps with many details, e.g. cable cars. Please mailto:info@weglide.org which things are important to you on good flight maps.
Outlook
Gliding takes place in three dimensions. On WeGlide so far only in two. Should it stay that way? We don't think so and are working hard on bringing some change.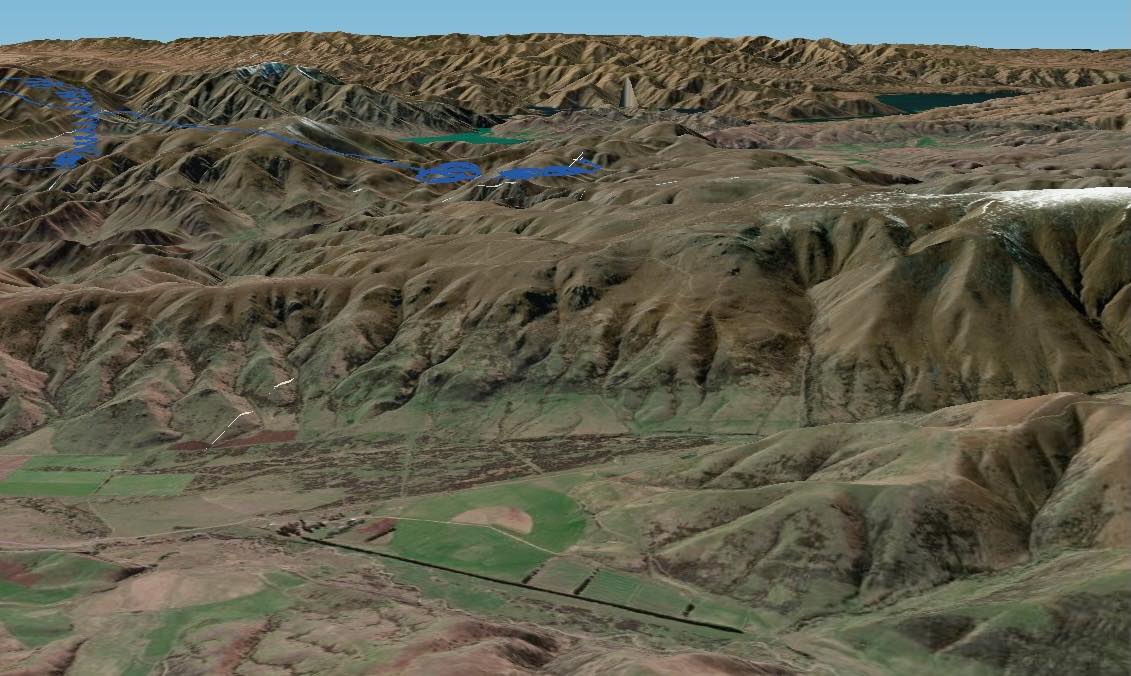 In spring, we launched a subscription model on WeGlide with Supporter and Premium. At this point, a big thank you to everyone who decided to support us and thus enable us to develop WeGlide further. It's great to see our work so close to your heart.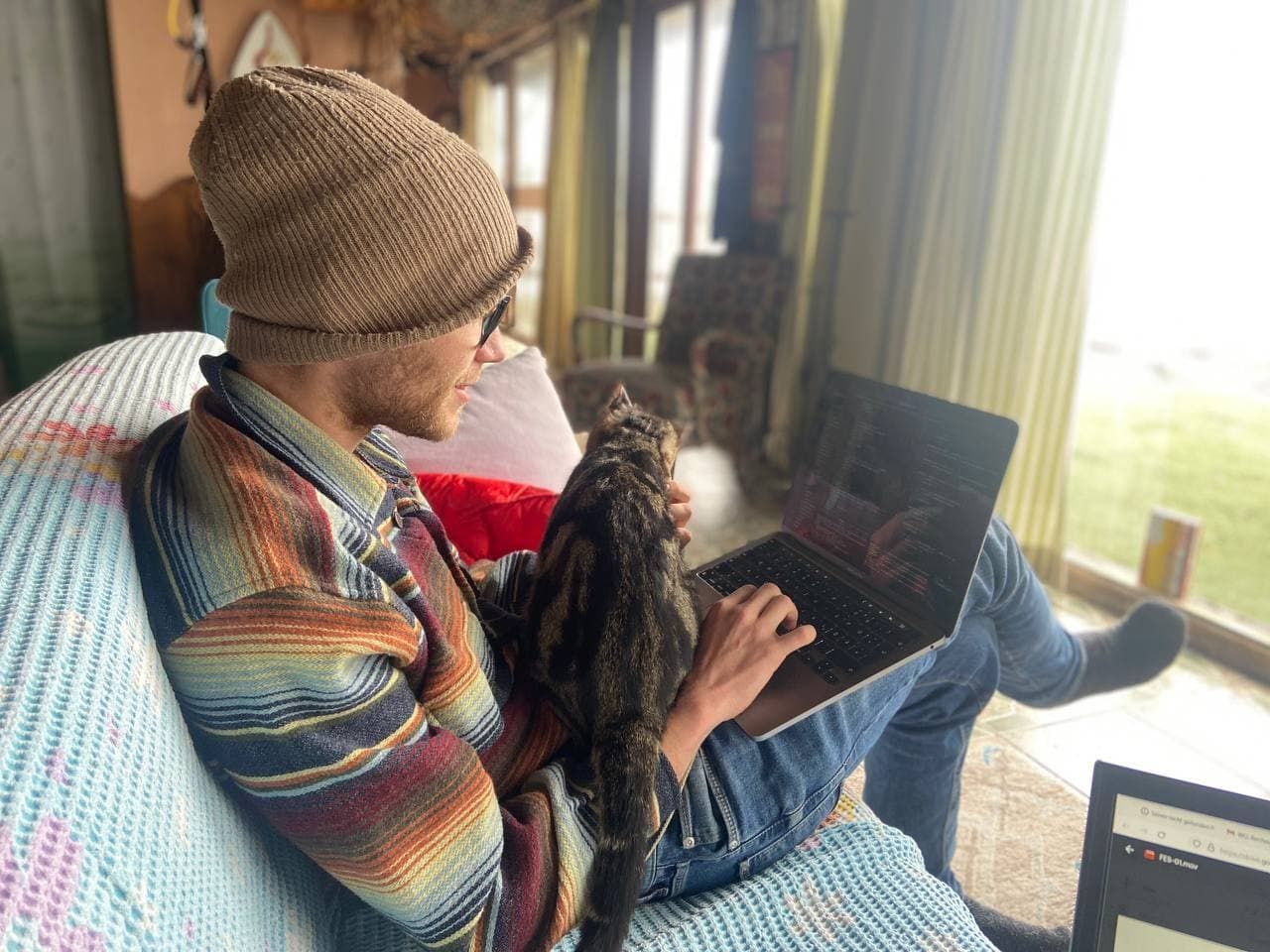 Without all of you, things would not have worked out the way they have over the past few years.
Many thanks
Johannes, Samuel, Joshua and Moritz